Education secretary hits the road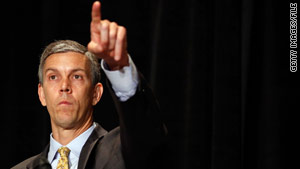 U.S. Education Secretary Arne Duncan is visiting four Northeastern states on his "Courage in the Classroom" tour.
STORY HIGHLIGHTS
New York and Massachusetts get praise for winning in second round of "Race to the Top"
Education Secretary Arne Duncan also will visit New Hampshire and Maine
"Courage in the Classroom" tour aims for interaction with teachers, students, parents
Watch CNN's "Fix Our Schools" coverage all this week, starting at 9 a.m. ET in the "CNN Newsroom." We're taking a look at unique solutions to the U.S. education crisis.
(CNN) -- U.S. Education Secretary Arne Duncan opened the second leg of his "Courage in the Classroom" bus tour Monday with a stop at the state Capitol in Albany, New York.
Introduced by Gov. David Paterson, Duncan congratulated New York on its success in the competitive "Race to the Top" program, which awards grant money to states that demonstrate plans for reform in areas of the educational system.
"I like hanging around winners," Duncan said, "so I'll stay here all day."
New York is one of nine states and the District of Columbia to win in the second round of the Race to the Top program, which will disperse more than $4 billion in federal grants. The other second-round state winners are Florida, Georgia, Hawaii, Maryland, Massachusetts, North Carolina, Ohio and Rhode Island.
Tennessee and Delaware were announced this year as the first-round winners.
Duncan praised the New York state government's ability to put politics aside to accomplish the goal of winning the grant, worth more than $700 million.
"I couldn't be more proud of New York's collective leadership," Duncan said. "I know these conversations weren't always easy, but at the end of the day adults put aside egos. They ... moved outside their comfort zones, and the right thing happened here for the state's children."
Later Monday, Duncan will travel to Springfield, Massachusetts, to praise that state's victory in the Race to the Top program.
Duncan is using the "Courage in the Classroom" tour as a way to interact with teachers, administrators, parents and students.
On Monday evening, he will travel to Keene State College in Keene, New Hampshire, where he will participate in a classroom observation session, followed by an open forum.
On Tuesday, the tour will make two more stops in New Hampshire and conclude in Portland, Maine.
FOLLOW THIS TOPIC