Alaska Senate hopeful wants land, not cash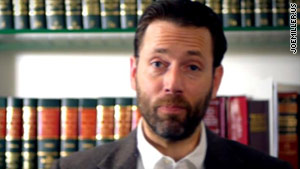 The government is "going bankrupt," and needs to transfer its power "back to the states and the people," Joe Miller says.
STORY HIGHLIGHTS
The Alaska GOP hopeful wants feds to transfer land to Alaska
Miller has a slight edge in an unresolved race with incumbent Lisa Murkowski
He says it would be "irresponsible" not to study changes to Social Security
(CNN) -- Alaska's political leadership has spent decades touting its ability to bring federal dollars back from Washington. But the man who may have unseated incumbent Republican Sen. Lisa Murkowski in last week's primary says forget the cash -- he'd rather have real estate.
U.S. government is "going bankrupt," and needs to transfer its responsibilities and power "back to the states and the people," Fairbanks attorney and GOP activist Joe Miller told CBS' "Face the Nation." He said Alaska would take less money from Washington in exchange for land from the federal government, which owns about two-thirds of the state.
"It's our position that as the money is restricted, the lands are transferred. So that's the plan that we want to implement," he said. Alaska would then use its "extraordinary" resource base to create jobs, he said.
Remote, thinly populated Alaska received $1.84 in federal money for every $1 paid in taxes in 2005, the third-highest ratio among U.S. states, according to the Washington-based, nonpartisan Tax Foundation.
Miller led the heavily favored Murkowski after Tuesday's balloting by fewer than 1,700 votes out of 92,000 cast. But with about 15,000 absentee ballots yet to be counted, Murkowski told reporters last week, "It ain't over yet." Miller had the support of Tea Party activists; ex-Gov. Sarah Palin, who ousted Murkowski's father Frank to win the statehouse in 2006; and onetime Arkansas Gov. Mike Huckabee, whose 2008 presidential bid Miller supported.
Whoever wins will face Scott McAdams, the Democratic mayor of Sitka, in November.
Democrats have already begun painting Miller as "an extremist" who wants to dismantle Social Security and Medicare, the federal pension and health programs for seniors. But Miller told CBS it would be "irresponsible" not to look at those programs in trying to rein in the federal budget, but said "We've got to look at it and make sure that we create a solution so that our seniors are not left out in the cold."
"I would suggest to you that if one thinks that the Constitution is extreme, then you would also think that the founders are extreme," he said. "We just simply want to get back to basics, restore essentially the constitutional foundation of our country. And that means the federal government becoming less onerous, less involved in basically every item of our lives. What that means is there does have to be some transition."
FOLLOW THIS TOPIC