Tom DeLay's trial will be in Travis County, Texas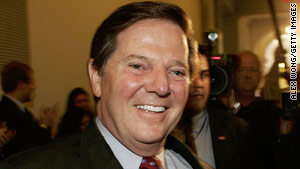 Tom DeLay's lawyer lobbied to move the trial from Travis County, which he said had a "strong anti-Tom DeLay feeling."
STORY HIGHLIGHTS
NEW: District attorney praisings venue ruling
Former House majority leader will be tried October 26
DeLay has pleaded not guilty to money laundering, conspiracy
Prosecutors allege he illegally sent money to help legislative candidates
(CNN) -- Former U.S. House Majority Leader Tom DeLay, accused of money laundering, will get a fair trial in Austin, a Texas judge ruled Wednesday.
Senior Judge Pat Priest's ruling did not please DeLay's attorney, who said "heavily Democratic" Travis County has a "strong anti-Tom DeLay feeling."
The Travis County prosecutor has charged DeLay with illegally funneling corporate campaign contributions.
"He's obviously very thoughtful, listened to the evidence and ruled from his heart," District Attorney Rosemary Lehmberg said of Priest's ruling.
The Republican was indicted in 2005 on charges he illegally sent $190,000 in corporate money through the Republican National Committee to help elect GOP Texas legislative candidates in 2002.
DeLay, who resigned in 2006, has pleaded not guilty to money laundering and conspiracy. He has said the October 26 trial will clear him.
His attorney, Dick DeGuerin, told CNN the case was "highly political" and should have been heard in DeLay's home county of Fort Bend. He said the case against his client began over congressional redistricting that gave Republicans control.
"He's finally going to get a trial. He's literally been begging for five years," said DeGuerin, adding the evidence "will show he [DeLay] didn't do anything."
Two other men facing charges in the case will be tried later.
Last week, DeLay said a separate, long-running federal criminal investigation of him had been closed with no charges.
DeLay was under investigation for his ties to lobbyist Jack Abramoff, who pleaded guilty in 2006 to fraud, tax evasion and conspiracy to bribe public officials. Abramoff admitted defrauding Native American tribal clients of millions of dollars for help in gaining casino licenses.
DeLay said he had informed Abramoff that "our relationship is over" when he learned of Abramoff's plans for casinos aboard cruise ships. He also told reporters that during a visit to a casino on a Choctaw reservation he was disgusted when he saw a long line of baby carriages lined up while parents were gambling at 11:30 p.m.
The Justice Department declined comment on the federal investigation.
CNN's Phil Gast contributed to this report.
FOLLOW THIS TOPIC