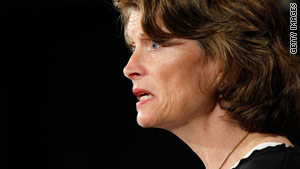 Republican Sen. Lisa Murkowski was first appointed to her post by her father in 2002.
STORY HIGHLIGHTS
Sen. Lisa Murkowski trailing Joe Miller in Alaska GOP Senate primary
Murkowski was first appointed to her post by her father in 2002
Miller, an attorney, received backing from Tea Party Express, Sarah Palin
Murkowski campaign says they remain upbeat of an eventual victory
(CNN) -- Republican Sen. Lisa Murkowski, a scion of what was once one of Alaska's most famous political families, found her Senate career on the brink Wednesday morning.
Murkowski was trailing previously little-known attorney Joe Miller by about 2,500 votes, according to an unofficial count by the Associated Press with 84 percent of the precincts reporting.
Miller highly benefited from support from the Tea Party Express and the backing of former Alaska Gov. Sarah Palin, who in the 2006 GOP primary defeated then-Gov. Frank Murkowski.
But with more than 16,000 ballots expected to be received within 10 to 15 days, the winner of this battle could remain unclear for days.
Murkowski's performance is a reminder of continued voter discontent toward incumbents and the influence Palin can wield on elections, especially on her home turf.
Miller's only previous foray into politics was a loss in the 2004 state representative race, and the attorney had little name recognition before the Tea Party Express and Palin weighed in.
Miller made big government a key issue and campaigned against Murkowski as not conservative enough -- striking just the right chords with the Tea Party Express, the most well known national Tea Party organization, which ultimately poured a half-million dollars into the race to try to knock out the state's senior senator.

Video: Palin backs Miller in Alaska
Palin stepped up her efforts in the race's closing days, posting another letter of support on her Facebook page 10 days ago and cutting a robo-call that was blasted to Alaska voters over the weekend. She also commissioned her husband, Todd, to pen a fundraising letter that was mailed to Tea Party Express supporters. Noting that he rarely sends fundraising letters, Todd said the effort was designed to raise $150,000 within 48 hours.
"The early endorsement certainly gave us national prominence, but we have a number of endorsements, high-profile endorsements and also endorsements across the state that reflect the one central concern, and that is the out-of-control nature of D.C.," Miller said on CNN's American Morning early Wednesday.
To be sure, Murkowski -- who was first appointed to her post by her father in 2002 -- was also hampered by her own record, having voted for the Troubled Asset Relief Program, which many conservatives view as the ultimate example of a government handout.
A Congressional Quarterly analysis suggests Murkowski is the most moderate senator facing re-elections this year, having voted against her party 30 percent of the time on key votes. Another Congressional Quarterly analysis, from 2003 to 2008, suggests Murkowski has increasingly voted with Democrats over the years.
The Alaska senator also appeared to dismiss the threat of Miller until it was too late, largely sitting on her multimillion-dollar campaign coffers as the Tea Party Express spent heavily against her.
Instead, Murkowski promoted her seniority after eight years in the Senate, a tactic that repeatedly worked for the late Alaska Sen. Ted Stevens who long argued he could "bring home the bacon."
Murkowski sits on the appropriations and energy committees, powerful and important posts for oil-rich Alaska.
The Murkowski campaign says they remain upbeat of an eventual victory while Miller is holding back from making any declarations.
"We're three points ahead right now," he told CNN. "But of course the ballots are not all counted yet. Really I think the focal point for Alaskans is that the nation's gone bankrupt and that the kind of entitlement mentality that's grown up around us."
The winner of the Republican contest will be considered the favorite in November's general election, facing off against Scott McAdams, the mayor of Sitka, who captured the Democratic Senate nomination.
CNN's Shannon Travis contributed to this report.
FOLLOW THIS TOPIC