Blagojevich won't rule out political comeback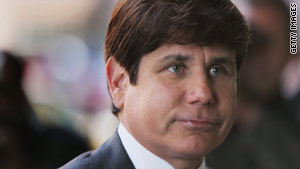 Gov. Rod Blagojevich insists he will be vindicated.
STORY HIGHLIGHTS
Blagojevich says that he will be vindicated
He won't rule out returning to politics after a second trial
For second trial, he says he will call Emanuel, Reid, to the stand
(CNN) -- Former Illinois Gov. Rod Blagojevich said Sunday that he is not ruling out a return to politics once the legal process against him winds down.
The disgraced governor, who is accused of corruption for trying to sell President Barack Obama's former senate seat, said he is certain he will be acquitted and then would consider a political comeback
A jury that considered the case this month was hung on all but one count, finding Blagojevich guilty of making false statements to the FBI. He now faces a retrial.
"My adult life was serving the people as a congressman, as a governor. It's what I know," Blagojevich said on "Fox News Sunday." "I'm not ruling myself out as coming back, because I will be vindicated in this case. I'm significantly closer to vindication than I ever was."

Video: Blagojevich in the spotlight

Video: Blagojevich convicted on one count

Video: What's next for Blagojevich?

Video: Victim or sociopath?
The former governor said the fact that he didn't present a defense in the first trial and was not found guilty on the corruption charges showed that the government lacked the evidence that he did anything wrong.
In the second trial, Blagojevich said he would mount a defense that would include calling players such as White House Chief of Staff Rahm Emanuel and Sens. Harry Reid and Robert Menendez to the stand.
"I'm ready for Round 2," he said.
FOLLOW THIS TOPIC