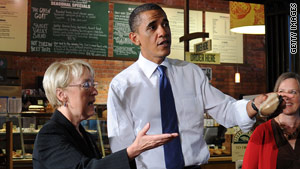 Sen. Patty Murray, D-Washington, received a campaign visit from President Obama on Tuesday.
STORY HIGHLIGHTS
Democrat Patty Murray and Republican Dino Rossi emerge in Washington Senate race
Murray is seeking a fourth term in the Senate
In Wyoming, Republicans are hoping to reclaim the governor's mansion
Republican Matthew Mead to face Democrat Leslie Petersen in November
(CNN) -- Voters in Washington state and Wyoming picked their candidates for the general election, setting the stage for some potential nail biters in November.
In Washington, Democratic Sen. Patty Murray and Republican candidate Dino Rossi emerged from a crowded primary field.
Murray, the incumbent, received 46 percent of the vote and Rossi got just under 34 percent, according to the Washington secretary of state. Under the state's system, the two candidates who receive the most votes regardless of party affiliation move on to the general election. Washington is primarily a mail-in ballot state, and voting was under way for two weeks.
In many ways, Murray and Rossi had already begun their general election campaigns before the primary, focusing their attacks on each other. Polls show a close race in the fall.
For Rossi, this is the third run for statewide office in the past six years after twice losing close races for governor to Democrat Christine Gregoire. Rossi was certified as governor-elect in the 2004 election, but after a recount, Gregoire was declared the winner by a 130-vote margin.
"Rossi's past cuts both ways," said Nathan Gonzales, political editor of the Rothenberg Political Report. "It gives him name recognition that can be expensive to get, but brings some of the dirty laundry that's been aired in the past races."
Rossi beat out conservatives Paul Akers and former NFL tight end Clint Didier. Didier had the backing of former Alaska Gov. Sarah Palin, who recorded a robocall on his behalf. The Seattle Times reports Palin said in the call that "unlike establishment candidates who just talk about lower taxes, Clint has signed a pledge to do so."

Video: Obama: GOP slogan is 'no we can't'
Murray is seeking a fourth term in the Senate and, as in her two previous re-election bids, she is a target of national Republicans. The Rothenberg Political Report rates the race a toss-up/tilt Democrat in the fall, but Gonzales said Republicans are optimistic they can change the outcome.
"It's all about the cycle," Gonzales said. "A majority of Americans are dissatisfied and looking for change. This is a year to tap in, in places like the Northwest where's it been difficult in recent years."
President Obama on Tuesday appeared at a Seattle, Washington, fundraiser for Murray. "Murray understands she's a target," said Gonzales, who added that the fundraiser is about getting "resources necessary to get her message out."
While some Democrats have chosen not to appear alongside Obama, Gonzales said, "Republicans will try to tie Murray to Obama no matter what she does, so she might as well have the money to defend herself."
In Wyoming, Republicans are hoping to reclaim the governor's mansion as Democrat Dave Freudenthal leaves office.
Seven Republicans competed for the GOP nomination, while five Democrats sought their party's nod.
Former U.S. Attorney Matthew Mead squeaked out a win in the Republican primary for governor, defeating state auditor Rita Meyer by fewer than 1,000 votes, according to the Wyoming secretary of state.
Meyer received the backing of Palin in the final weeks of the campaign. Palin wrote on her Facebook page: "her true grit has not escaped the eye of other Americans who know that at every level of political office we all benefit with commonsense constitutional conservatives in service."
Leslie Petersen, former chair of the Wyoming Democratic Party, emerged on top in the Democratic primary for governor.
CNN's Kristi Keck contributed to this report.
FOLLOW THIS TOPIC