Obama touts clean energy in Wisconsin visit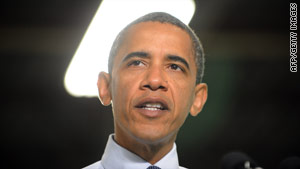 "We've got to keep going forward," President Obama says Monday at the ZBB plant in Menomonee Falls, Wisconsin.
STORY HIGHLIGHTS
President Obama says clean energy can bring 800,000 jobs by 2012
Obama tours a Wisconsin company that makes high-tech batteries
ZBB Energy Corp. received a $1.3 million federal loan for factory renovation
The loan is expected to lead to 80 new hires and increased capacity, Obama says
(CNN) -- President Obama touted his administration's clean energy initiatives Monday, saying tax credits and loans would help bring 800,000 jobs by 2012.
After touring the ZBB Energy Corp. plant in Menomonee Falls, Wisconsin, Obama told workers that their jobs manufacturing renewable batteries and power systems were part of a necessary transition of the U.S. economy.
"We can't turn back. We've got to keep going forward," Obama said to applause, later adding: "You're pointing us in the right direction. And I am confident about our future because of what I have seen at this plant."
The company is using a $1.3 million Recovery Act State Energy Program loan to help fund a $4.5 million factory renovation. Obama said the renovation is expected to result in the hiring of 80 new workers and triple the capacity to manufacture renewable power and storage systems.
In what sounded at times like a pep talk and at times like a campaign speech, Obama said American workers were resilient enough to emerge stronger than ever from a decade-long manufacturing decline and an economic recession.

Video: Clean energy 'made in America'
"We don't give in to pessimism; we don't give in to cynicism," the president said.
He cited steps his administration has taken to boost job growth and clean energy development, including tax credits and loans such as those provided ZBB. He noted a special tax credit program that would help ZBB build another factory in Wisconsin, saying a rise in demand for advanced batteries gave company officials the confidence to make the move.
Obama also criticized Republicans in Congress for opposing such steps, saying they should come to the ZBB plant to explain their position.
"They've made the political calculation that it was better to stand on the sidelines than work as a team to help the American worker," Obama said, later adding: "I want them to explain why they think these clean energy jobs are better off in Germany or China or Spain instead of right here in the United States."
FOLLOW THIS TOPIC