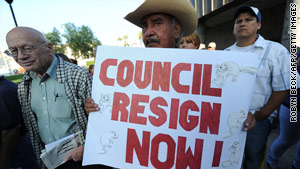 The high salaries paid to Bell city leaders provoked anger as California deals with a nearly $20 billion budget deficit.
STORY HIGHLIGHTS
City of Bell is expected to return property tax rates to legal limit
The state says the city overcharged residents on property taxes
The city is under fire for high salaries
Los Angeles, California (CNN) -- The Bell City Council is expected to be asked Monday to approve a property tax rate that meets state law. The California city, which has drawn anger for the high salaries paid to its leaders, plans to repay $3 million in property tax overcharges.
The council will be asked Monday to pass a resolution agreeing the rate overcharge was illegal, interim City Manager Pedro Carrillo said last week.
Carrillo said he had previously asked the state controller to look into reports of the overcharge. New discoveries were made Thursday night, he said.
California State Controller John Chiang notified Los Angeles County that "the overcharges were discovered during the initial phase of the controller's audit into the city of Bell's finances.
Property owners in the city paid an estimated $3 million in extra taxes during the past three years," Chiang's office said in a written statement Friday.
"While my investigation into the city of Bell continues, these unlawful taxes must stop immediately," said Chiang. "Homeowners and property owners should not pay the price for this poor fiscal management."
Bell City Manager Robert Rizzo, Police Chief Randy Adams and Assistant City Manager Angela Spaccia resigned last month after media reports that they were earning salaries of several hundred thousand dollars each.
In addition, four Bell City Council members who were making almost $100,000 a year drastically reduced their pay after protests by citizens outraged by the high salaries.
Carrillo said he wants to return the $3 million to taxpayers but state law requires overages go to schools. He hopes to negotiate that. He doesn't know yet what fund will be used to repay the $3 million.
The city is trying to determine who passed or authorized the illegal rate, Carrillo and interim City Attorney Jamie Casso said. "We want to know who did what, when and where," Carrillo said.
"No stone will be left unturned" in the investigation, said Casso, who indicated that any possible criminal charges will be up to the Los Angeles County district attorney or Attorney General Jerry Brown.
Brown earlier in the week ordered Bell officials past and present to turn over financial records and give depositions under oath in the coming weeks on the high salaries that prompted public protests and resignations.
He ordered them to produce records related to their pay, pension benefits, tax returns, gifts, bank accounts and outside interests.
The controller's letter said Bell's City Council began raising property tax rates in 2007 to pay for pension obligations, even though state law caps those taxes at the rate used in fiscal year 1983-84.
Friday's letter from Chiang, who is seeking re-election, instructs the county to reduce the property tax rates. The lower rates would deliver, for example, an estimated $250 in annual savings on a property worth $275,000, Chiang said.
Bell is a working-class city in southeast Los Angeles County. The 2000 census counted 36,624 residents. The median annual income of city residents is less than $35,000.
The Bell salaries provoked statewide anger at a time when California is grappling with a nearly $20 billion budget deficit.
Brown, who is running for governor, also issued a statement last week saying that he is looking into irregularities involving absentee election ballots by some city officials.
"My office has received several reports from residents of Bell indicating that city officials encouraged them to fill out absentee ballots and then collected the ballots," Brown said, noting similar allegations had been published in the Los Angeles Times. "If these allegations are true, this could be a serious violation of state law."
California law requires that absentee ballots must be mailed or brought to a polling place by the voter unless the voter is disabled or ill, said the statement by Brown.
CNN's Phil Gast contributed to this article.
FOLLOW THIS TOPIC