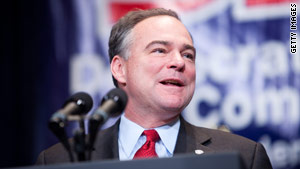 Democratic National Committee Chairman Tim Kaine says Democrats will continue to highlight their role in Social Security.
STORY HIGHLIGHTS
The Social Security Act was signed into law on August 14, 1935
DNC Chairman Tim Kaine says Democrats will tout the program this fall
Republicans have called for a revamp of the program, including privatization
Washington (CNN) -- Democrats pledged Friday to not only keep Social Security in place, but use the historic program against Republicans ahead of the midterm election.
"We will continue to highlight the Democratic Party's role in strengthening it and the Republican Party's role in opposing it," said Democratic National Committee Chairman Tim Kaine."So that is one of the themes for the fall: It's critical to elect Democrats who will stand with the president to protect Social Security."
He said that President Obama and Democrats across the country are "very dedicated to preserving this wonderful program," and that the party opposes privatization or other "misguided schemes that will undermine or threaten Social Security."
Saturday is the 75th anniversary of the Social Security Act, signed into law by President Franklin Roosevelt on August 14, 1935. Many Republicans have opposed the social program since its inception. In recent times, Republicans such as former President Bush have called for the program to be privatized. That push was rejected.
The House Democratic Leadership recently gave rank-and-file members talking points to help them plan events around the anniversary. A House Democratic source provided to CNN a memo laying out the key messages, which include:
• "Republicans promise once again to privatize and cut your Social Security -- turning it over to the whims of Wall Street.
• "Social Security has been, for 75 years, a bedrock promise. You've earned it with a lifetime of hard work, and it should be there for you and future generations.
• If Republicans had succeeded, seniors would have lost trillions more in the stock market meltdown of the Bush recession -- instead, no one lost a penny in Social Security.
• Democrats are working to strengthen Social Security. But Social Security is not the cause of our budget deficits."

Video: Buck: Raise retirement age
Besides the message, the fight by Democrats to keep the country's Social Security program in place is getting personal.
James Roosevelt Jr., the grandson of FDR and DNC member, spoke on Friday's conference call and said of his grandfather: "What he created then was a tremendous legacy for this country. It was the most successful government program. It was and it still is and it will continue to be that this country has ever seen."
He said that Social Security was something that his grandfather viewed as a key part of his legacy "just like universal health care is going to be a key part of President Obama's legacy."
Roosevelt, who served as associate commissioner for retirement policy under President Clinton, blasted recent Republican claims that the program is in trouble.
"There's a lot of scare talk out there from Republicans like Congressman Paul Ryan and Newt Gingrich and people like that about Social Security going bankrupt," he said. "In fact, it's very actuarially sound. ... It's in good shape. People can count on it as they counted on it."
House Minority Leader John Boehner said in a statement marking the 75th anniversary that while the law has served the needs of millions of Americans seniors, the Social Security and Medicare Trustees have "repeatedly warned Congress and the American people that reforms are necessary or future benefits will be threatened."
He added that Republicans are "committed to protecting Social Security and preserving this invaluable program for current and future generations of retirees."
Boehner is under fire for indicating in late June that the retirement age should be raised to 70 for those who have at least 20 years left before retirement as a possible way to finance the ongoing wars.
"We need to look at the American people and explain to them that we're broke," he told the Pittsburgh Tribune-Review. "If you have substantial non-Social Security income while you're retired, why are we paying you at a time when we're broke? We just need to be honest with people."
On NBC's "Meet The Press" this past Sunday, Boehner was asked if Republicans would be campaigning on raising the retirement age.
"I think it's time for the American people to have an adult conversation about the problems that we face," he said. "But we also know that these programs are, are unsustainable in their current form. ... I think we need to bring Democrats and Republicans together in order to solve this problem."
Both Democrats and Republicans know the importance of senior citizens when it comes to elections; they come out to the polls more than any other age group.
An NBC News/ Wall Street Journal Poll from June showed just how important -- and popular -- keeping the current Social Security program is. Sixty-six percent of those surveyed said they had reservations or were concerned about privatization or phasing the program out.
And that may be why Democrats are jumping on one Republican candidate for Senate whose position on Social Security changed over time.
Sharron Angle, a Tea Party favorite running against Democratic Sen. Harry Reid in Nevada, recently released a television ad saying that she wants save Social Security.
"We have a contract with our seniors who have put into Social Security in good faith," She said in the ad. "I'd like to save Social Security by locking the lock box, putting the money back into the trust fund so the government can no longer raid our retirement."
But her position on the program has changed since she became the Republican Senate candidate. In her primary race, Angle said that Medicare and Social Security needed to be phased out with a privatized plan put into place.
Reid's campaign hit back hard, saying that her "newfound zeal for Social Security is particularly disingenuous given that Sharron Angle is on the record voicing her opposition to government programs like it. The truth -- as we celebrate Social Security's 75th anniversary -- is that if Sharron Angle had her way there would be no 76th."
CNN's Alex Mooney contributed to this report.
FOLLOW THIS TOPIC