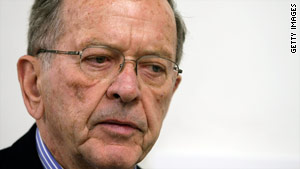 Former Sen. Ted Stevens survived a 1978 plane crash in which his first wife, Ann, died.
STORY HIGHLIGHTS
Former Sen. Ted Stevens was killed in plane crash this week
Ed Henry looks back at his memories covering Stevens
"If he told you he was going to do something, he did it," Henry says
Washington (CNN) -- I was one nervous little cub reporter when I had my first sit-down interview with Sen. Ted Stevens way back in June 1997, shortly after he had taken over as chairman of the powerful Appropriations Committee.
The Alaska Republican always seemed so gruff and hot-tempered -- especially at an Appropriations Committee hearing weeks earlier where he warned Democrats he was far different than his predecessor as chairman, mild-mannered Sen. Mark Hatfield, R-Oregon.
"Sen. Hatfield had the patience of Job and the disposition of a saint. I don't," Stevens shouted into the microphone, adding: "I'm a mean, miserable SOB."
Gulp. I remember walking gingerly into Stevens' grand Capitol office and thinking: I better not ask a dumb question or else this cranky man is going to unleash his wrath on me.
But to my amazement, Stevens did just the opposite.
He opened up during the interview in a very personal way about the horrific 1978 plane crash that killed his wife of 26 years, Ann. The senator was also on that plane and he was one of just two people to survive, which makes this week's crash that killed Stevens all the more startling.

Video: Ted Stevens' history-making legacy

Video: Remembering Ted Stevens
Let me make clear that I'm not trying to make Stevens out to be a hero in death. He was no saint, as evidenced by the corruption charges that ultimately ended his long Senate career. In fairness to Stevens, those charges were eventually dismissed because of prosecutorial misconduct, though even his friends admit the senator's trial revealed a man who at the very least had become a bit too cozy with lobbyists.
But as I've seen the coverage of Stevens' death -- with most of his obituaries boiled down to snippets about the corruption charges -- it's made me realize again how easy it is for the media to forget that the people we cover are not one-dimensional caricatures. It was a lesson I learned when I sat down with Stevens 13 years ago.
I was working on a profile for Roll Call newspaper, and I was told by a former Senate aide that if I really wanted to explain Stevens to my readers I should try to get him to discuss that 1978 plane crash. It was obviously a seminal moment in his life, and yet he spoke about it rarely.
Not wanting him to explode on me, I carefully noted to Stevens that while it must have been terrible to lose his wife, in an odd way it must have been even more awful to survive the crash that killed her. To my surprise, rather than snapping at me or avoiding the topic, Stevens was upfront about the guilt he felt.
"I think that's something a lot of people don't grasp," Stevens said. "It's one thing to survive your wife. It's another thing to survive the crash in which your wife was killed. It was a very traumatic period for me."
He went on to describe horrific family repercussions that cold December day the plane crashed: All five of the Stevens children were in college at the time, and in those pre-cell phone days there was no quick and easy way to spread the horrible news. Instead, the kids arrived home happy to start Christmas vacation, only to abruptly find out their mother had just been killed. The senator himself was in a hospital dealing with his injuries. But as soon as he was released, he told his kids he had to get back on a plane and fly to Denver, Colorado.
Why in the world would he fly again so quickly? Stevens told me he decided that the only decent way to break the news to his 93-year-old father-in-law was to do it in person rather than just picking up the phone.
"You can't believe it, but my father-in-law looked at me and he said, 'Did you love my daughter?' " Stevens recalled to me. "I said, 'You know I did.' He said, 'Well then, I want you to go and find another wife.' "
Stevens briefly stopped the interview, his eyes filling with tears, but then he continued about his father-in-law. "He said, 'You know, life has to go on and you've got to get a hold of yourself and make it go on.' So I took my kids down to Mexico, and we sort of put our lives together."
Stevens also developed a second family in the Senate. He was known simply as "Uncle Ted" to a couple generations of former staffers who were fiercely loyal to him throughout his travails. In fact, some of those confidants were on the plane with him this week for an annual fishing trip.
He also had a tight bond with colleagues across the aisle, including Sen. Daniel Inouye, D-Hawaii, who said he lost his "brother" when Stevens died.
Despite those friendships, it's hard to tell what role emotional scars from the 1978 crash may have contributed to Stevens' gruff exterior.
But Stevens did reveal another reason for his screaming demeanor: He was trained as a trial lawyer before Alaska became a state, so garages and basements served as makeshift courtrooms in the territory.
"We didn't have any PA systems, so we learned how to shout and scream and threaten and cajole and talk softly when we had to," he told me.
He used that approach in 1958 as a young lawyer at the Department of Interior to help Alaska become the 49th state. And it continued right through his 40 years in the Senate. Stevens donned a wacky green and black necktie with the "Incredible Hulk" spelled down from neck to belly button every time he had to muscle through a difficult piece of legislation on the Senate floor.
"I want them to believe that I'll make their life miserable if they don't listen to me," he said, stressing that rather than "lose" his temper, he knew how to "use" his temper to get things done.
I saw that up close in 1998 when I flew to Florida to cover then-Sen. John Glenn's, D-Ohio, second voyage into space. Stevens was leading an official delegation of senators, including Edward Kennedy and Bill Frist, down to Cape Canaveral to view the shuttle launch from a premiere spot reserved for families of the astronauts.
I was told that reporters were banned from that VIP spot because they didn't want us witnessing family reactions if, God forbid, there was a crash. But I was determined to get an up-close look so that I could get the scoop of immediate reaction to the successful launch from Glenn's Senate friends. So I pitched Stevens spokesman John Raffetto on letting me tag along in the VIP area.
Stevens thought it was a fine idea and told Raffetto it would be fine, only to find out that NASA officials vetoed the idea. But Stevens usually didn't take no for an answer, so Raffetto told me to show up at the senators' hotel and just blend in with the crowd. Stevens welcomed me onto the tour bus taking the senators from the hotel to a backstage tour of Kennedy Space Center. It's something I'll never forget.
I thought I was home free. But just as the tour ended, and the senators began boarding the bus to head to the VIP site for the launch, two NASA officials appeared out of nowhere and pulled me aside: "Ed Henry, right? This is where your tour ends. We have to take you to a separate site to watch the launch with the rest of media."
I protested but they would not budge, telling me they even turned down Tom Brokaw's request to watch from the VIP area -- the not-so-subtle message being I was a lot less important than him. As a last resort I asked for a moment so that I could get my briefcase on the bus, where I found Stevens, who already seemed impatient about the bus not rolling yet. Raffetto, knowing his boss well, suggested I tell the senator that NASA was trying again to veto his agreement to let me tag along.
I approached Stevens in his seat and asked if he would prefer that I leave and watch the launch with the media or stay with his group. He loudly said that it would obviously be better for me to see it from the VIP area.
"But Senator, NASA is saying I can't do what you want," I said, somewhat shamelessly, I'll admit now.
I'll never forget the sigh that the powerful Appropriations chairman, who controlled NASA's budget, let out. "NASA?!" Stevens barked. "NASA?!"
Raffetto moved in and said, "So Senator, you're saying that you want Ed to stay with us?"
"Yes," Stevens said loudly. "Didn't we give Ed our word?"
The NASA officials were not pleased when Raffetto walked off the bus to inform them. But the bus rolled and I got the story.
Looking back, was Stevens a bit heavy-handed? Sure. And that attitude about the use of power may have helped get him into some of that ethics trouble down the road.
But for Stevens, his word was his bond, and if he told you he was going to do something, he did it. And that's why former aides like Raffetto stayed loyal to him until the very end.
When I called Raffetto to reminisce after hearing about Stevens' death, he told me that he had been lucky enough to do some fishing with the former senator just a few months ago.
When the subject of the corruption trial came up, Raffetto recalled, Stevens simply said, "I'm too old to look in the rear-view mirror."
"He was the most relaxed I had ever seen him," Raffetto told me, "just enjoying Alaska, and being an Alaskan."
FOLLOW THIS TOPIC