Obama touts education goals in speech at the University of Texas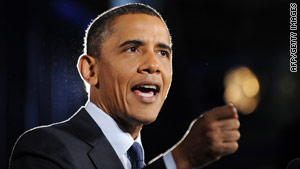 President Obama is expected to tout initiatives that the administration argues will make college more affordable.
STORY HIGHLIGHTS
NEW: President Obama reaffirms his commitment to higher education
He wants the nation to have the world's highest proportion of college grads by 2020
Education secretary the nation has "grown complacent"
Austin, Texas (CNN) -- President Barack Obama on Monday touted the steps his administration has taken to try to meet his goal of dramatically boosting U.S. college graduation rates.
In a speech at the University of Texas at Austin, Obama said he wants the United States to have the highest proportion of college graduates in the world by 2020.
"In a single generation, we've fallen from first place to 12th place in college graduation rates for young adults," Obama said, referring to rankings of the world's top 36 developed nations. "Now that's unacceptable, but it's not irreversible. We can retake the lead."
Achieving that goal would mean adding an additional 8 million college graduates to current levels by 2020 "so we can have a higher share of graduates than any other nation on Earth," Obama said.
"The single most important step we can take is to make sure that every one of our young people, here in Austin, here in Texas, and here in the United States of America, has the best education that the world has to offer," Obama said.
Earlier Monday, U.S. Education Secretary Arne Duncan said on CNN's "American Morning" that the nation had "grown complacent," letting other countries outpace it regarding college graduation rates.
Obama did not unveil any new policy initiatives in his speech, but noted steps taken so far that he said will make college more affordable, including strengthening Pell Grants, as well as creating programs that make it easier for students to pay back loans after graduation.
One step eliminates banks from the student loan process so that the government provides loans directly to students, Obama said, adding that the move frees $60 billion to pay for more Pell Grants. Other measures increase the education tax credit for middle-class families and increase investment in community colleges, he said.
In addition, the government is making it easier to apply for a student loan, Obama said, adding: "You should not have to have a Ph.D. to apply for financial aid."
"We've got to lift graduation rates," he said. "We've got to get our graduates to succeed in this economy. We've got to make college affordable. That's how we'll put a higher education within reach for anybody who's willing to work for it."
Despite the administration's plans, some states are slashing early childhood education programs to balance the budget. Duncan called such moves harmful, and noted that the U.S. House of Representatives on Tuesday will consider a spending package to save teachers' jobs, which he said could bring some relief to states.
The Senate passed its version of the spending bill last week.
CNN's Erika Dimmler contributed to this report.
FOLLOW THIS TOPIC