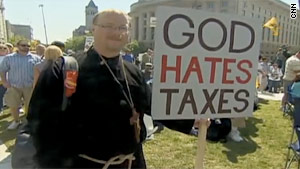 An activist attends a Tea Party Express rally in Washington in April 2010.
STORY HIGHLIGHTS
Tea Party Express holds press conference in Washington on Wednesday
Group of black conservatives will be speaking on attacks to the tea party movement
The event comes after the group's ex-spokesman made racially insensitive remarks
Washington (CNN) -- The tea party movement has been called a lot of things -- from racist to the voice of the people. One tea party group is on a mission to change how the movement is perceived, especially when it comes to race relations.
Lloyd Marcus, a spokesman for the Tea Party Express, is hosting a National Black Conservative press conference in Washington on Wednesday. The event at the National Press Club is featuring more than a dozen black conservative speakers, including former diplomat and presidential candidate Alan Keyes.
The goal, Marcus said in a statement, is to fight back against "bogus, false and malicious charges" and the NAACP's resolution calling on tea party leaders to crack down on racist elements in the movement.
"As a black singer/songwriter performing my 'America Tea Party Anthem' and traveling with Tea Party Express, I have attended over 200 tea parties across the U.S. The attendees are not racists," Marcus said. "They are decent hard-working Americans who love their country. Tea party patriots oppose President Obama's policies, not his skin color."
Since the tea party movement began in 2009, some activists could be seen at rallies holding racist signs about President Obama. Critics charged that the number of minorities at the rallies could be counted on one hand.
The issue of racism rose again in July when Mark Williams, a Tea Party Express spokesman and former chairman, resigned after posting what he called a satirical letter pretending to be from NAACP President Benjamin Jealous to Abraham Lincoln.
The post read: "Dear Mr. Lincoln, we Coloreds have taken a vote and decided that we don't cotton to that whole emancipation thing. Freedom means having to work for real, think for ourselves, and take consequences along with the rewards. That is just far too much to ask of us Colored People and we demand that it stop!"
Shortly after the post was published, the National Tea Party Federation, an organization that says it represents the entire movement, expelled the Tea Party Express, saying that Williams failed to "represent us properly."

Video: Dismissing racist claims
Observers wonder if Wednesday's event will be a chance for the beleaguered group to mend fences with the greater movement -- and especially minorities.
"I don't think they need to mend fences," said Judson Phillips, founder of Tea Party Nation. "I don't think there were any fences torn asunder that need to be mended."
Phillips, who founded his group in 2009, denounced Williams' blog post, saying the attempt at satire "clearly failed."
As for the press conference, Phillips said it will send a message that the tea party movement lives by the words of the Rev. Martin Luther King Jr. and "will present a good message to the public ... I see nothing but positive coming out of it."
The tea party movement also addressed race with a diversity rally over the weekend in Philadelphia, Pennsylvania, geared toward incorporating more minorities into the movement.
The Wednesday event "appears to be similar to that rally, which saw multiple African-American conservative speakers take the podium to tell a largely white audience of tea partiers that they're not racists," wrote Evan McMorris-Santoro on the political blog Talking Points Memo.
Phillips said the movement is fairly representative of America.
"There are areas where you're going to have a higher percentage of minority participation than other areas," he said. "I think a lot of people are trying to make it a big issue. There's some folks out there that think they can score political brownie points by making it an issue. I don't see it as an issue."
The Tea Party Express, now a political action committee, has been criticized for being too political after donating money and resources to help Republican candidates win office.
The group spent hundreds of thousands of dollars on ads for GOP Senate candidate Scott Brown in Massachusetts. He later upset Democrat Martha Coakley to fill the late Sen. Ted Kennedy's seat.
More recently, the Tea Party Express helped Sharron Angle win the Republican primary in Nevada, and spent nearly a half-million dollars on ads for her. The organization said it plans to spend more to help her beat Senate Majority Leader Harry Reid.
Critics of the movement have also questioned how effective a movement can be when there's no leader, but instead a fractured bunch of activists railing against big government and the president's policies.
For tea party activists, a decentralized movement is a good idea, Phillips said.
"They like the fact that we don't have a leader of this movement -- that nobody can claim leadership or ownership of this movement. It is a movement of the people, by the people and for the people."
CNN's Kristi Keck and Charles Riley contributed to this report.
FOLLOW THIS TOPIC