Coleman skips, Steele resolute ahead of RNC meeting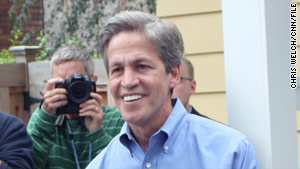 Former Minnesota Sen. Norm Coleman has been proposed as the next chairman of the Republican National Committee.
STORY HIGHLIGHTS
Former Minnesota senator stays away from party meeting
Coleman's name has been floated as replacement for Steele as RNC chair
Coleman aide does not cite a reason for his absence
Steele has come under criticism from many in the Republican party
(CNN) -- The Republican National Committee's summer meeting gets under way in Kansas City, Missouri, on Wednesday with a key address from Chairman Michael Steele.
One notable absence at the gathering, however, will be former Minnesota Sen. Norm Coleman, his aide told CNN on Tuesday.
Coleman spokeswoman Liz Maruggi did not cite a reason for the change in plans.
But Coleman's decision to stay away from the meeting could be a sign that he is trying to tamp down chatter about a possible challenge to Steele, after his early jockeying irked some RNC members.
Coleman's potential campaign for the chairmanship was floated late last month in a Politico article that quoted a Coleman confidante relaying the former senator's "strong and growing interest" in the RNC job.
The day after the Politico article appeared, Coleman fanned the flames by going on CNN and criticizing Steele's handling of committee finances while also avoiding questions about his interest in becoming party chairman.
Steele, the first African-American to head the committee, has had a turbulent tenure.
He has been criticized for mishandling the committee's diminishing war chest, coming months before voters head to the polls for the midterm elections.
Most recently, he has come under fire for suggesting that the war in Afghanistan is one "of Obama's choosing" and that the conflict might be unwinnable.
William Kristol, the editor of the conservative Weekly Standard, has called for Steele's resignation. A string of other Republicans, including Arizona Sen. John McCain, have also questioned Steele's ability to lead the party in the wake of the remarks.
Last month, Steele made clear he has no intention of resigning.
"Every time something happens, people say, 'He should step down,'" Steele told a gathering of supporters in Greenfield Village, Colorado, on July 8.
"The reality is that's not happening, so stop the noise on that. You don't need the distraction. We're focused on winning."
FOLLOW THIS TOPIC