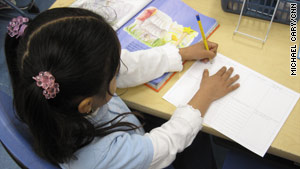 Maywood Elementary School near Los Angeles, California, may receive Race to the Top funding.
STORY HIGHLIGHTS
NEW: Governor says news confirms Louisiana schools are "making significant progress"
Race to the Top program is funded under the American Recovery and Reinvestment Act
It rewards states for reforming their education systems
18 states and D.C. chosen as finalists for the second round of funding
Washington (CNN) -- Eighteen states and the District of Columbia were selected as finalists to receive more than $3 billion in the second round of funding for the Race to the Top Program, Education Secretary Arne Duncan announced Tuesday.
Duncan, speaking at the National Press Club in Washington, said that peer reviewers selected the states for having bold education reform plans aimed at improving teaching methods, using data systems to aid student development and turning around underperforming schools, to name a few.
The finalists chosen were: Arizona, California, Colorado, the District of Columbia, Florida, Georgia, Hawaii, Illinois, Kentucky, Louisiana, Maryland, Massachusetts, New Jersey, New York, North Carolina, Ohio, Pennsylvania, Rhode Island and South Carolina.
"As I have said many times before, this isn't just about the money -- this is about working together and putting the needs of children ahead of everyone else," Duncan said in his remarks. "This entire process has moved the nation and advanced education reform."
Race to the Top is an Obama administration program that is funded under the American Recovery and Reinvestment Act to reward states for aggressively reforming their education systems. The $4.35 billion is awarded in two phases.

Video: Schools race for stimulus cash
Thirty-five states and D.C. applied for the second round; 46 states and D.C. applied for either the first or second rounds -- or both, according to the Department of Education.
Tennessee and Delaware were the only two states to receive funds in the first round of the competition.
Read more about the Race to the Top first round
The second-round finalists will travel to Washington in early August to present their plans to the reviewers who scored their applications, according to the department. The winners will be announced in September.
"Just as in the first round, we're going to set a very high bar because we know that real and meaningful change will only come from doing hard work and setting high expectations," Duncan said in a press release.
Not all of the finalists, however, will be awarded grants from the nearly $3.4 billion remaining in program, Duncan said, adding that President Obama has requested $1.35 billion for the program in the administration's fiscal 2011 budget.
Tuesday's news was hailed by Louisiana Gov. Bobby Jindal, who said in a statement that it's further evidence his state is on track to implement "aggressive reform strategies to improve our schools."
"It's clear that Louisiana is making significant progress to provide a better education for our children, and this funding would allow us to intensify our current efforts," he added.
The education secretary was also pressed on why D.C. was on the list after its public school system announced last week that it is letting 226 employees go for poor performance under the education assessment system IMPACT.
A questioner asked whether the firings were the kind of thing that would help D.C. in future competitions, which sparked laughter from the audience.
"Well I think it's a Race to the Top, and I don't think anyone's going to fire their way to the top," Duncan responded to more laughter. "D.C. is having honest conversations -- and these are tough conversations of change."
CNN's Mackenzie Green and Sally Holland contributed to this report.
FOLLOW THIS TOPIC