Sherrod case stokes race issue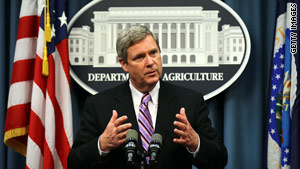 Agriculture Secretary Tom Vilsack has apologized to Shirley Sherrod.
STORY HIGHLIGHTS
Shirley Sherrod was alleged to have not given full help to a white farmer
But case happened decaddes ago; family credited Sherrod with helping them
Sherrod was initially dismissed, then apologized to and offered new job
Even with country's first black president, race remains a potent political issue
(CNN) -- A soft-spoken African-American woman with a gentle manner has become the most famous face in U.S. politics, in Kafkaesque confusion involving race, right-wing media and officials of the Obama administration.
"On behalf of the administration, I offer our apologies," White House spokesman Robert Gibbs said.
Until this week, Shirley Sherrod was a largely anonymous government employee helping struggling farmers in a poor part of the country.
But a right-wing internet blogger found video of a speech she gave, mentioning her work with a white farmer she found condescending.
"I was struggling with the fact that so many black people have lost their farmland, and here I was faced with having to help a white person save their land," Sherrod said in the widely viewed and quoted excerpt. "So I didn't give him the full force of what I could do."

Video: Mystery woman in Sherrod saga

Video: Debating the tape
Edited out, though, were her explanation that the work was done decades earlier for a different employer, that it taught her to look past race, and that she even offered the disagreeable white farmer exactly the help he needed.
Indeed, when CNN found his family, they were grateful and credited Sherrod with saving them from financial disaster.
But the country's leading civil rights organization, the National Organization for the Advancement of Colored People had already called for her dismissal and President Obama's agriculture secretary had ordered her fired from her job.
They were reacting not just to Sherrod, but also a lot of painful history. Tens of thousands of black, Hispanic and female farmers have complained over the years of unfair treatment by the Department of Agriculture, when they wanted government assistance.
So a largely black organization and the cabinet secretary of America's first black president wanted to demonstrate their rejection of any form of discrimination.
When the full facts emerged, the NAACP complained that it had been intentionally fooled by the blogger and the media that repeated his account. Agriculture Secretary Tom Vilsack apologized to Sherrod and offered her a new job.
And Obama's America was left scratching its head about race and politics once again.
FOLLOW THIS TOPIC