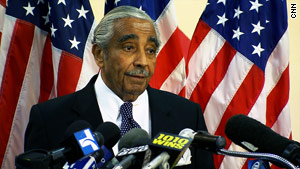 The House ethics committee on Thursday will make public a report of Rep. Charlie Rangel's alleged violations
STORY HIGHLIGHTS
NEW: Veteran Rep. Rangel confirms settlement talks with ethics committee lawyers
Rangel faces a public hearing Thursday on allegations of ethics violations
House majority leader takes a neutral stance on the investigation
Rangel acknowledges that House Democrats are troubled by the ethics investigation
Washington (CNN) -- Veteran Democratic Rep. Charles Rangel of New York confirmed Tuesday that his lawyers are discussing a possible settlement with lawyers for the House ethics committee that would avoid a public hearing this week on ethics allegations against him.
"Negotiations are much like the arc of legislative conferences, and that is until everything is agreed upon, there's absolutely nothing agreed upon," Rangel said while leaving the House floor after several votes.
He declined to talk about any details of the negotiations handled by his legal team, saying he was not participating in the talks himself.
Earlier, House Majority Leader Steny Hoyer said it was up to Rangel to decide whether to resign over the pending ethics allegations.
"Mr. Rangel has to do what Mr. Rangel believes is appropriate and proper," Hoyer said, taking a neutral stance instead of offering support for the 20-term veteran of the House Democratic caucus that Hoyer leads.
Rangel gave up his chairmanship of the powerful House Ways and Means Committee earlier this year because of the allegations he violated House rules by failing to disclose personal income and other acts.
The House ethics committee on Thursday will make public a report of Rangel's alleged violations. After a nearly two-year investigation of Rangel, the committee's report could bring a trial by a panel subcommittee in September.
Rangel acknowledged that the issue was having an impact on fellow House Democrats as they face congressional midterm elections this year.
"This is a very trying period not only for me but for the Congress and especially my Democratic colleagues," Rangel said, adding that the issue was not personal but "very, very political."
In his comments, Hoyer stressed that the formal ethics process should be allowed to continue and that it's up to Rangel to decide whether he wants to settle the matter ahead of Thursday's hearing.
"I think everyone would like to have it go away, in the sense that this is not a pleasant process," Hoyer said, adding: "I don't know what Mr. Rangel's decision is going to be as to how far he's going to pursue this, but he certainly has the right to have it pursued between the findings of fact and this hearing."
Hoyer, D-Maryland, also said that the progress in the committee investigation of Rangel shows that "the ethics process works." Democrats had cleaned up the process, he said, noting that former New York Democratic Rep. Eric Massa had opted to resign his seat this year instead of facing a likely ethics investigation into alleged improper conduct with House staff.
Rangel has admitted a failure to pay taxes on a home in the Dominican Republic and to report several hundred thousand dollars in assets on federal disclosure forms.
In addition, questions have been raised about his purported misuse of a rent-controlled apartment for political purposes and whether he preserved tax benefits for an oil-drilling company in exchange for donations to a project he supported at the City College of New York.
On Monday, Rep. Debbie Wasserman Schultz of Florida, who is heavily involved in House Democratic re-election efforts, said Rangel needs to look at big picture regarding his political legacy.
"I think Mr. Rangel would be wise to evaluate what's best not only for him but also for the causes he has advanced for as many years as he has in his long career," Wasserman Schultz said.
She had no information about any possible settlement Rangel might try to reach with the ethics committee before the upcoming hearing but said that having possible ethics allegations aired in public at the hearing was "certainly not helpful."
Democratic leadership aides, speaking on condition of not being identified by name, denied any direct effort by House leaders to broker a settlement between Rangel and the ethics committee, but they acknowledged the issue was a potential problem in an election year.
At the same time, Democratic Rep. Barbara Lee of California, the head of the Congressional Black Caucus, warned against a "rush to judgment" in the Rangel case.
"Attempts by Republicans and Democrats to presume guilt before the Committee on Standards of Official Conduct completes its review of the facts, which are only known to them and Congressman Rangel, violates the core American principle of the presumption of innocence," Lee said in a statement.
As of Monday, only one House Democrat, Rep. Betty Sutton of Ohio, had called for Rangel to step down. At least two other Democrats -- Rep. Brad Ellsworth, the Senate nominee in Indiana, and Rep. Kathy Dahlkemper, a Pennsylvania Democrat -- have pledged to donate to charity any campaign contributions received from Rangel.
On the GOP side, the third-ranking House Republican, Rep. Mike Pence of Indiana, said that "it is important that we tone down the politics and let the ethics committee do its job."
However, the National Republican Campaign Committee continued criticizing House Democrats who have yet to return political contributions from Rangel.
The committee sent a series of e-mails Monday that linked House Democrats facing tough re-election bids to Rangel. In the e-mails, the committee argued that the House Democrats took "dirty campaign contributions" and are aligned with Rangel's "notorious ethics problems."
Utah Democrat Jim Matheson, one of the Democrats targeted by Republicans, said he is not hearing any concerns about Rangel from his constituents. He said he wants to know the specific charges before he makes a judgment.
Matheson acknowledged that he received campaign contributions from Rangel for previous elections, saying, "that money has already been spent."
FOLLOW THIS TOPIC