Kerry plays down significance of leaked war documents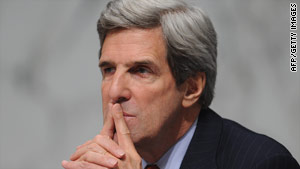 Sen. John Kerry says it is "important not to over-hype" the meaning of the leaked documents.
STORY HIGHLIGHTS
Foreign Relations Chairman Sen. Kerry says it's important not to over-hype documents' meaning
He calls the leak of classified information unacceptable
Kerry stresses that the documents date to before the new U.S. strategy in Afghanistan
Washington (CNN) -- Foreign Relations Committee Chairman Sen. John Kerry said Tuesday the importance of Afghanistan war documents leaked by the whistleblower website WikiLeaks.org should not be overstated.
"I think it's important not to over-hype, or get excessively excited about the meaning of those documents," Kerry, D-Massachusetts, told the committee.
The senator called the leak of the documents "unacceptable."
"It breaks the law and equally importantly it compromises the efforts of our troops, potentially, in the field and has the potential of putting people in harm's way," he said.
WikiLeaks.org published Sunday what it says are more than 75,000 U.S. military and diplomatic reports about Afghanistan filed between 2004 and January of this year.
Kerry stressed that most, if not all, of the documents date to before December, when President Barack Obama outlined a new strategy for the war that Kerry said addressed many of the issues raised by the leaked reports.
FOLLOW THIS TOPIC