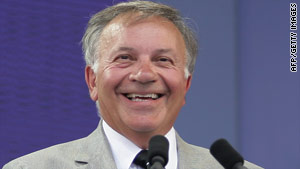 Tom Tancredo is expected to announce his gubernatorial campaign Monday.
STORY HIGHLIGHTS
Tancredo floated possibility of a third-party gubernatorial run last week
State GOP objects to his gubernatorial run
Tancredo is known for his hard-line stance against illegal immigration
(CNN) -- Conservative firebrand Tom Tancredo will run for governor of Colorado despite strident objections from the state GOP, the former congressman is set to announce later Monday.
Tancredo floated the possibility of a third-party gubernatorial run last week, demanding that the two-current GOP candidates who have both been beset by scandals withdraw from the race after the August 10 primary if polls show Democrat John Hickenlooper far ahead.
The Republicans -- Scott McInnis and Dan Maes -- both scoffed at Tancredo's threat, prompting the onetime Republican presidential candidate to step up his announcement.
"I will officially announce at noon that I will seek the nomination of the constitution party," Tancredo told The Denver Post.
The move gave rise to a heated exchange between Tancredo and Colorado GOP chairman Dick Wadhams on local radio station KHOW Monday, with the two men descending into a shouting match over what is best for the Colorado Republican party.
"Why don't you wait until after the primary?" Wadhams implored Tancredo.
"Because you know as well as I do, if I am going to run, I have to get going," responded Tancredo. "There is no downside for either one of these guys to simply say 'If I am not ahead at that time I will get out.'"
"What will your agenda be?" Wadhams also asked Tancredo sarcastically. "Are you going to keep talking about impeaching Obama and bombing Mecca?
McInnis, a prominent Colorado lawyer apologized earlier this month for plagiarising several passages of a judge's work in producing a series of essays for which he was paid $300,000 to write as part of a fellowship in 2003. Maes, meanwhile, is facing political troubles too, agreeing earlier this month to pay more than $17,000 in a fine for campaign finance violations.
Tancredo, most known for his hard-line stance against illegal immigration, came under fire earlier this year when he kicked off a Tea Party convention by proclaiming, "people who could not even spell the word 'vote', or say it in English, put a committed socialist ideologue in the White House. His name is Barack Hussein Obama."
A spokesman for the Tea Party Nation, the group that organized the convention, said at the time that Tancredo's speech may have provide some red meat but termed it problematic.
Tancredo also stired the pot earlier this month at a campaign rally for Senate candidate Ken Buck, saying Presidetn Obama constitutes more of a threat to the United States than terrorist organizations.
"The greatest threat to the United States today, the greatest threat to our liberty, the greatest threat to the Constitution of the United States, the greatest threat to our way of life, everything we believe in, the greatest threat to the country that was put together by the Founding Fathers is the guy that is in the White House today."
Now, leaders of more than 20 Tea Party groups are urging Tancredo not to run for governor.
"Together our groups strongly urge you to reconsider, withdraw your ultimatum, stay in the Republican Party, let the process play out for the governor's race," stated an open-letter signed by 21 Tea Party groups Sunday. "In other words, to trust and respect the newly awakened, energized and informed voters of Colorado."
The letter went on to state that Tancredo's entry in the race will assure "victory for Mayor Hickenlooper and the liberal agenda in Colorado for at least four more years."
FOLLOW THIS TOPIC