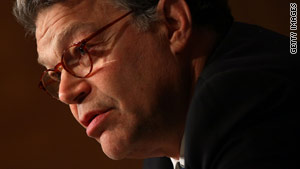 Sen. Al Franken charged that "Republicans want to go back to the dark days of the Bush administration."
STORY HIGHLIGHTS
Minnesota senator asks attendees to ensure Democrats retain control of Congress
Franken says he shares frustration about a lack of progress
Issa: Franken is "misguided"
Las Vegas, Nevada (CNN) -- Using some of his trademark humor and dire predictions, Minnesota Sen. Al Franken implored thousands of his fellow progressive activists Saturday to redouble their efforts to prevent the Democrats from losing control of Congress.
He jokingly called the Netroots Nation convention of bloggers, leaders and others "the most exciting political gathering of the year without guns."
On a serious note, he said, he shared many of the frustrations of those in the audience about a lack of progress on some of their key priorities.
"You really haven't gotten your moneys' worth," he said, specifically mentioning such ideas as a public option government-run health care plan or education reform or public financing of elections.
"I know progressives are frustrated...because it feels at times not everyone in our party is pushing at the same pace," he said.
He told them, however, that several of the bills that have been passed in this Congress -- such as the health care overhaul or Wall Street reform -- have helped the nation and were stronger because of their efforts.
"No matter how frustrated you are, you can't check out now," Franken said.
Trying to spur more enthusiasm among the activists, Franken warned them if Republicans do gain back control they will pursue a "dangerous" agenda of spending cuts, roll back some of the initiatives passed by the Democrats and allow corporations more power to influence government policy.
"Republicans want to go back to the dark days of the Bush administration, but this time it may not be so easy" for the progressives to organize and fight back, he said.
Franken said that if Republicans as Reps. Joe Barton or Darrell Issa became committee chairmen, they would pose a danger to Democratic priorities.
Issa responded to Franken's comments in a statement he issued shortly afterward.
"Between a trillion-dollar stimulus, numerous bailouts and a government takeover of health care, the role, size and scope of the federal government has grown dramatically, yet Democrats continue to try and convince the American people that we need less oversight, not more," he said.
"We have a responsibility to look inward at the litany of waste, fraud, abuse, mismanagement and corruption that exists in our own federal bureaucracy. Obviously, Senator Franken is reading from the same misguided playbook that [House] Speaker [Nancy] Pelosi and shares her belief that a Democratic Congress should give this administration immunity from legitimate questions and appropriate accountability."
Franken spent a good deal of his speech warning the gathering about the danger of consolidation of the communications industry and how that could threaten the flow of information on the internet.
"I know some of you are tired. I know some of you are frustrated," he said. "If we don't rise to this challenge, no one else will."
Franken, a hero to the progressives, credited the community with helping ensure his victory allowing his campaign to mount a new type of organizing force: web-based tools and their ability to counter misleading information that would not have been possible previously.
FOLLOW THIS TOPIC