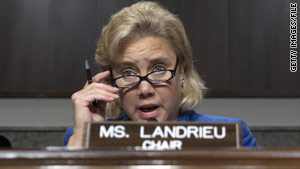 The president has praised the efforts of Sen. Mary Landrieu, D-Louisiana, who has negotiated with a GOP senator.
STORY HIGHLIGHTS
NEW: Senate minority leader criticizes size of bill, "more government intrusion"
President Obama discusses the economy at the White House on Friday
Obama says the Senate must work to pass a small-business bill
He says it would help to create loans and eliminate capital gains taxes on investments
Washington (CNN) -- President Obama on Friday called on the Senate to pass a small-business jobs bill that would, for one, help spur greater lending to struggling business owners.
"Our goal is to make sure people who are looking for a job can find a job," he said at the White House. "And that's why it's so important for the Senate to pass the additional steps that I've asked for to cut taxes and expand lending to America's small businesses -- our most important engine for hiring and for growth."
The House passed a similar bill in June.
The bill would set up a $30 billion lending fund to help community banks offer small businesses "the loans they need to grow and to hire," the president said.
Last week, Federal Reserve Chairman Ben Bernanke said banks across the country are systematically denying loan requests from financially credible small businesses. He implored community banks to lend more to small businesses, saying they are "crucial to America's recovery."
Sen. Mary Landrieu, D-Louisiana, chairwoman of the Senate Small Business and Entrepreneurship Committee, said she expected the Senate to pass the legislation by the end of the week.
"We believe we have the 60 votes to get this done," she said Wednesday. "We're hoping at the end that we actually have some Republicans join us for a bill that makes so much sense."
A Republican she hopes to have on her side is Sen. George LeMieux of Florida, who has been negotiating with the Louisiana Democrat.
The president praised both senators' efforts, applauding their "leadership and advocacy on behalf of the millions of small-business people for whom this will make a meaningful difference." But he also took a swipe at Republicans, saying that he wished the bill would be passed without more "partisan wrangling."
Senate Minority Leader Mitch McConnell responded to Obama's remarks, saying in a statement that the problem that banks and small businesses are facing is not that they don't have incentive to lend, "it's that the government is threatening them with a 2,300-page bill full of new rules and regulations while their customers, small businesses, are threatened by pending tax hikes and more government intrusion."
Todd McCracken, president of the National Small Business Association, said in a statement posted on Landrieu's committee website that the group is pleased to support the bill and is "particularly gratified that it contains a provision allowing small-business owners to deduct the cost of health insurance incurred in 2010 for themselves and their family members in the calculation of their 2010 self-employment tax."
The bill, Obama said, would help states encourage greater private-sector loans to businesses and industries, such as manufacturing and construction, that the recession has hit especially hard.
"We'll expand our most successful small-business initiatives and more than double the size of loans our small-business owners can take out," he said.
One of the key elements he wants to see passed -- ever since his 2008 presidential campaign -- includes a provision that would eliminate capital gains taxes for key investments in small businesses.
Obama also discussed the Wall Street reform bill and the extension of unemployment benefits -- both of which he signed into law this week.
"Taken together, we made enormous progress this week," he said.
CNNMoney.com contributed to this report.
FOLLOW THIS TOPIC