Unemployment benefits bill clears House, heads to Obama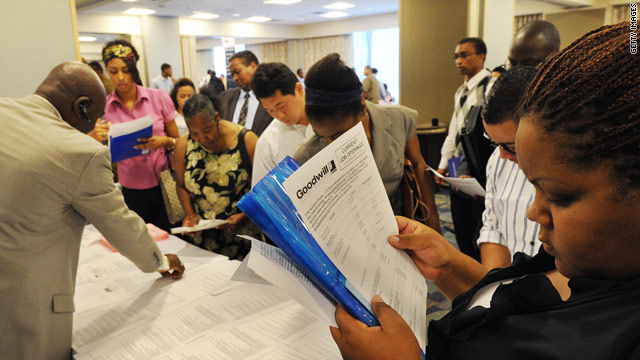 STORY HIGHLIGHTS
NEW: House votes to restore unemployment benefits for 2.8 million people
NEW: Republicans attack Democrats for not paying for the bill
NEW: Democrats attack Republicans for playing politics with the measure
President Obama has pledged to sign the bill
Washington (CNN) -- A hotly contested bill restoring unemployment benefits to 2.8 million jobless Americans was approved by the House of Representatives Thursday. The $34 billion measure, which cleared the Senate Wednesday, now moves to President Barack Obama's desk to be signed into law.
The bill pushes back the deadline to file for extended unemployment benefits until the end of November.
The House voted 272-152 to restore the benefits, ending a seven-week congressional stalemate. The jobless stopped getting their checks in early June, after Congress failed to extend the deadline to apply for benefits.
Most Republicans fought the bill's passage, arguing it should be paid for first. They suggested covering the $34 billion tab with unused stimulus money, a step the Democratic leadership rejected.
"It's not that we can't pay for it," said Rep. Dean Heller, R-Nevada. The Democrats "don't want to pay for it."
Democrats attacked their GOP counterparts for allegedly playing politics with the bill.
The Republicans claim they're worried about the deficit, but they're really just "trying to make the president fail at any cost," said Rep. Jim McDermott, D-Washington. The Republicans have "held displaced workers as hostages" to their political agenda, he added.
Republicans "couldn't care less" about unemployed workers, McDermott said. "The American people will remember. ... The voters are not stupid."
Federal unemployment payments, which last up to 73 weeks, kick in after the state-funded 26 weeks of coverage expire. The benefits are divided into tiers, and the jobless must apply each time they move into a new tier.
The payments will be retroactive to the previous deadline of June 2. But it could take up to a month for states to start sending the checks again, experts said.
CNN's Alan Silverleib contributed to this report
FOLLOW THIS TOPIC