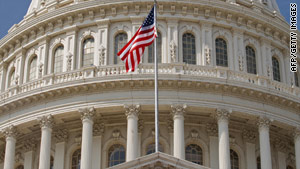 Members of Congress will soon be spending much more time on the campaign trail than in the halls of Congress.
STORY HIGHLIGHTS
Polls show Americans believe the economy is the No. 1 issue facing Americans
Analysts say Dems will have a hard time getting any more legislative items passed this year
"The Democratic majority simply does not have the will or the ability," GOP strategist says
Washington (CNN) -- Congressional Democrats have had a fairly successful time pushing through their agenda since taking control of both chambers of Congress and the White House.
Congress passed items backed by President Obama such as health care reform, a financial regulatory bill and economic stimulus measures.
The most recent wins came Tuesday when Senate Democrats broke a Republican filibuster on extending unemployment benefits to some Americans, and a Senate committee approved Supreme Court justice nominee Elena Kagan.
But that might be the last victories Democrats see in Congress for a while with both parties starting to pay more attention to midterm elections than legislation.
Democratic strategist Julian Epstein said that there isn't any time left on Congress' calendar this year to tackle controversial issues such as climate change and immigration reform.
"I just don't think there is going to be the time or the ability to develop political consensus on those issues," he said. "I'm not even sure it's smart politically given that the White House has had three major sweeping legislative reforms. I think there's only so much the system can take at one time."
Ron Bonjean, a Republican strategist, noted Democrats are exhausted after pushing through their legislative agenda.
"The Democratic majority simply does not have the will or the ability to push through any more significant policy changes through Congress," he said. "If Capitol Hill was an airport, the legislative runways are jam-packed -- but there's no jet fuel to allow them to take off."
The reason? As the political phrase goes, "It's the economy stupid."
With high unemployment and worries over the federal debt, other issues seem to pale in comparison.
"Some may see immigration and energy as being very important but second to the issue of creating jobs," said Epstein, former chief minority counsel to the House Judiciary Committee. "It's always difficult to push through immigration reform. It's especially difficult to push through the reform when you're facing 10 percent unemployment."
A CNN/Opinion Research Corp. poll released in May found that 42 percent of those surveyed said the economy was the most important issue facing the country today. Only 5 percent said that energy was a top issue; immigration didn't even make the list.
In a June CNN/Opinion Research Corp. poll, 73 percent said things were going badly in the country; 27 percent said things were well.
Those statistics are undoubtedly front and center for members of Congress as they head back home to campaign for November elections. The time for legislative work will likely be pushed to the side.
For Democrats in close races, any work on controversial issues could hurt them in November.
"Vulnerable and conservative Democrats are tired of carrying the president's water on left-wing policies," Bonjean said. "They would rather focus on how to attract independents to vote for them in November."
Epstein said that Democrats could turn it around -- with the help of Obama.
"What I think the White House needs to do is a better job at selling what they've done. They've got a pretty impressive package of accomplishments: the stimulus, health care and financial regulation. And they should be proud of those accomplishments. I still think there is a more effective sales job they need to do on it."
Even if Democrats lose their control of Congress in November, Epstein said it's important for the White House take a page from President Clinton's playbook.
"They need to take a look back at the Clinton years. President Clinton was very, very effective in making both the liberal base and the moderates believe he was secretly on their side. The way he did that was he had a legislative agenda that sent the right signals to both of them."

CNN Congressional Producer Ted Barrett contributed to this report.
FOLLOW THIS TOPIC