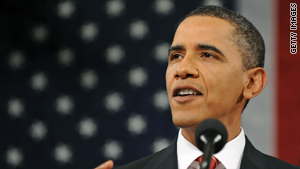 President Obama and his administration are touting the success of the economic stimulus plan.
STORY HIGHLIGHTS
Republican senators hold press conference Thursday to discuss economic conditions
"It is time this administration ... stop this job-killing agenda," says Sen. Orrin Hatch
Obama administration touting economic stimulus, calling this "Summer of Recovery"
Washington (CNN) -- Republicans wasted no time Thursday in calling out President Obama and Democrats for their handling of the economy, warning the country should not follow the Democratic Party down the road to ruin.
"It is time this administration and its Capitol Hill ally stop this job-killing agenda," Sen. Orrin Hatch, R-Utah, said at a press conference with other Republican senators.
Obama is simply "out of touch with the American people and out of touch with the economic realities of our country in the summer of 2010," said Sen. John Barasso, R-Wyoming.
The Obama administration is fighting back, touting Wednesday's economic stimulus report, which says the government paid out the largest chunk of stimulus funds so far in the second quarter of 2010 -- $116.3 billion -- which includes both spending on projects and tax cuts to businesses.
The administration said the the $787 billion stimulus is working and has already saved or created about 3 million jobs. Obama is now calling this the "Summer of Recovery."
Republicans, meanwhile, argue that the 9.5 percent unemployment rate is evidence that the country is not seeing a "Summer of Recovery."
The top GOP leader in the House is also targeting the Wall Street Reform Bill, which is expected to be passed by the Senate Thursday.

Video: 'I think we'll retain House,' Gibbs says

Video: Battle for the house
House Minority Leader John Boehner said he liked some things about the bill.
"There are common sense things that you should do to plug the holes in the regulatory system that were there, and to bring more transparency to financial transactions, because transparency is like sunlight. Sunlight is the best disinfectant."
But Boehner still thinks the bill should be repealed because it is "ill-conceived" and will "make credit harder for the American people to get, clearly harder for businesses to get and ... punish every banker in America for the sins of the few on Wall Street."
Pelosi's spokesman Nadeam Elshami immediately slammed Boehner's comments in a statement, saying "This comes as no surprise coming from the Republican House leader who called the financial crisis that caused 8 million Americans to lose their jobs an 'ant.' "
In addition to the economy, Republicans are smelling blood in the wake of recent comments made by White House Press Secretary Robert Gibbs on the midterm election.
Gibbs said on Sunday that he thinks there is "no doubt there are enough seats in play -- that could cause Republicans to gain control."
The comments were blasted by top Democrats, including House Speaker Nancy Pelosi and Majority Leader Steny Hoyer -- and seized on by Boehner.
"The panic that's building amongst Democrats erupted into a full scale civil war this week when the president's spokesman suggested that his party could lose the House this fall," Boehner said Thursday. "I understand that the House Democrats are angry because they see the White House throwing them under the bus."
"With all the trouble the House Democrats are in right now, [it] was really only a matter of time before the gloves came off. I just didn't know that the targets would be each other," he said.
Pelosi and others expressed frustration over Gibbs' comments which were seen by some as helpful to Republicans, according to senior Democratic officials.
It's one thing for a pundit to state the obvious about the state of play in the election and quite another for a top White House official to offer an assessment that may depress the party's base just as officials hope to start revving liberals up, the officials said.
Many lawmakers also said that after expressing their frustration, they now want to turn the page and did not plan to rail against the president himself, a senior administration official told CNN.
The White House is also feeling the heat from liberal Democrats who say Obama has not been aggressive enough in pursuing their agenda.
Obama senior adviser David Axelrod responded to those critics Sunday on CNN's State of the Union. "My admonition would be: Don't make the perfect the enemy of the good," he said.
"We've achieved more in these two years -- in terms of advancing a solid progressive agenda for this country that will help working families and make this a better, more balanced economy -- than anyone has done ... in our generation."
He pointed to comprehensive health care reform, the administration's move to boost fuel efficiency standards and the president's desire to repeal the "don't ask, don't tell" policy on gays and lesbians serving in the U.S. military, as part of that agenda.
But those legislative items are also providing fodder for Republicans.
Senate Minority Leader Mitch McConnell, speaking on Thursday to a group of young Republicans, said the midterm election will be a referendum on those policies.
"You're here at a time of the explosion of government," McConnell said. "The people who think what's wrong with America is that we just haven't gotten a big enough government ... we're going to have an opportunity to see how the American people feel about that in a few months, because they'll get their report card."
CNN's Martina Stewart and Deirdre Walsh, along with CNNMoney.com's Annalyn Censky, contributed to this report.
FOLLOW THIS TOPIC