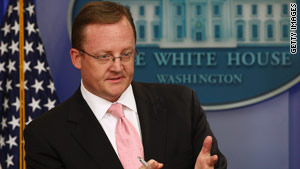 Robert Gibbs is under fire for saying that Democrats might lose control of the House.
STORY HIGHLIGHTS
NEW: President Obama, House Democratic leaders discuss way forward, not Gibbs comments
House Democrats are mad about Robert Gibbs' comment on November election prospects
Gibbs said that Democrats could lose their majority in the House
Despite anger, House Democrats say it is time to move on and band together
Washington (CNN) -- House Democratic leaders met with President Barack Obama on Wednesday night to discuss legislative priorities in the run-up to the November mid-term election, but one topic was bypassed -- the weekend assessment by White House Press Secretary Robert Gibbs that Republicans could win back the chamber.
Aides to the House Democratic leaders told CNN that the meeting with Obama was productive and focused mostly on economic issues and policy. One leadership aide said Obama declared the Democrats would retain control of the House in November, but there was no mention in the meeting of the remark by Gibbs.
Earlier, senior Democratic officials said that at a private Capitol Hill meeting on Tuesday night, a string of House Democrats -- including House Speaker Nancy Pelosi -- expressed deep frustration that Gibbs had played into Republicans' hands by answering a hypothetical question on NBC's "Meet the Press" about whether Democrats may lose their grip on power.
In a statement that senior White House officials maintain was blindingly obvious and really not newsworthy, Gibbs said on Sunday, "I think there is no doubt there are enough seats in play -- that could cause Republicans to gain control."
The senior Democratic officials said it's one thing for a pundit to state the obvious about the state of play in the election and quite another for a top White House official to offer an assessment that may depress the party's base just as officials hope to start revving liberals up.
"Members were hot -- hot, hot, hot," one senior Democratic official told CNN about the private meeting Tuesday where House Democrats directed their anger at Dan Turton, a White House aide who attended the session.
A senior administration official acknowledged to CNN there was heavy tension at Tuesday's congressional meeting, but stressed that many lawmakers also said that after expressing their frustration they now want to turn the page and did not plan to rail against the president himself at Wednesday night's meeting at the White House with Pelosi and other leaders including Majority Leader Steny Hoyer of Maryland and Majority Whip Jim Clyburn of South Carolina.
Several House Democrats offered a similar message.
Rep. Chris Van Hollen, the Democratic Congressional Campaign Committee chairman, took a jab at Gibbs on Wednesday when he told reporters that "people need to be aware of how their comments will be interpreted in a political environment."
Later, in an interview with CNN, Van Hollen stressed the need to move past the comments by Gibbs.
"There is no upside to this and we need to get beyond this and focus less on what the president's spokesman said on a news show and focus on what the Republicans say they will do if they get control of the House," said Van Hollen, of Maryland. Republicans are asking voters "to send back the same guys who got the economy in the ditch to begin with," he said.
Hoyer said Democrats need to get on the same page when they meet with Obama.
"I think our message to the president is we need to be speaking obviously on message from the White House, and from the House, and I think we need to be focused on what we've done to create jobs and move the country forward," Hoyer said, repeating his comment Tuesday that "we're going to maintain control of the House so I think any conclusion other than that is incorrect."
Meanwhile, House Republican Leader John Boehner described the chamber's Democratic caucus as "in chaos," but acknowledged Republicans have "a steep hill to climb to get to the majority."
"We've got a lot of work to do, but it is possible," said Boehner, of Ohio.
Dina Titus, a first term Democrat from Nevada and a top target of Republicans, told CNN she hoped the party spat would "get Democrats all enthused and they turn out even more because these are tough races."
But she also sought to distance herself from the White House and top Democrats, saying: "We're just running our own race. I'm not Obama. I'm not Reid. I'm Dina Titus and that's what we're focusing on."
Gibbs, on Wednesday at his White House briefing, sought to ease some of the tension by saying Pelosi's efforts have been "monumental" on behalf of the president's agenda. He also reiterated that his original comments on Sunday were meant to rally the party into coming together on showing voters there will be a sharp contrast between the Republican and Democratic agendas in November.
"On that choice we will do very well," said Gibbs, adding that he believes Democrats will keep control of both the House and Senate.
Nevertheless, Gibbs' comments sent alarm bells through the upper echelons of the Democratic party, especially because Van Hollen's Democratic Congressional Campaign Committee has a long-planned breakfast meeting Thursday with lobbyists who are key party fundraisers.
The committee, which is in charge of helping to elect House Democrats, had been hoping to project momentum in advance of Friday's deadline to publicly reveal fundraising numbers for the first six months of this year.
The fear now among some top Democrats, in the words of one top party official, is that the Gibbs comments will "give the Republicans a big fundraising boost" as perception builds that Democrats are in even deeper trouble than already expected.
Gibbs himself has insisted all week that he was really just stating the obvious about the challenge Democrats are facing.
"I think I did what is maybe uncommon in this town and yesterday I opened my mouth and stated the obvious," Gibbs said at Monday's daily press briefing with reporters. "I do not believe that you all are now scurrying around to cover this election markedly different based on my having said that there are a number of seats that are in play."
Gibbs has also stressed all week that he's merely trying to focus everyone on the fact that both parties will be offering sharply different visions of how to deal with key issues like the economy.
"You're going to have a choice between the leadership that we have now and the leadership that believes that BP should be apologized to first and foremost, and that the type of calamity wrought by the financial meltdown in the end of 2008 is analogous to the size of an ant," Gibbs said Monday. "Those are choices that the American people are going to get a chance to hear and make in November."
CNN's Deirdre Walsh and Brianna Keilar contributed to this report.
FOLLOW THIS TOPIC