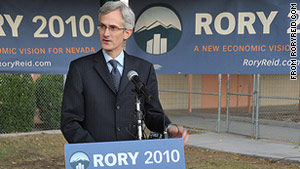 Harry Reid's son Rory campaigns in the Nevada gubernatorial race.
STORY HIGHLIGHTS
Rory Reid, the son of Sen. Harry Reid, is running for governor in Nevada
Polls show that both Reids have low approval ratings in the state
The youngest Reid has been criticized for campaigning using only his first name
Washington (CNN) -- As President Obama campaigned for Rory Reid's famous and powerful father in Nevada, the son was hundreds of miles away campaigning for governor.
While there's no animosity between Senate Majority Leader Harry Reid and his son, the younger Reid's use of his first name on his campaign's website and television ads is telling, a veteran political observer in Nevada said.
"Obviously he's trying to downplay his last name," said Jon Ralston, a columnist for the Las Vegas Sun and publisher of the Ralston Report. "In so obviously downplaying it, he's called even more attention to it."
The reason, he said: Poll numbers showing high unfavorable ratings for both Reids.
In a Las Vegas Review-Journal poll from June, 52 percent had an unfavorable view of Harry Reid. Polls also indicate Rory Reid trails his Republican gubernatorial opponent, Brian Sandoval, by double digits.
"The reason he's [Rory] losing so badly is because his identity is inextricably linked to his father," he said. "So his father's negatives are attaching to him."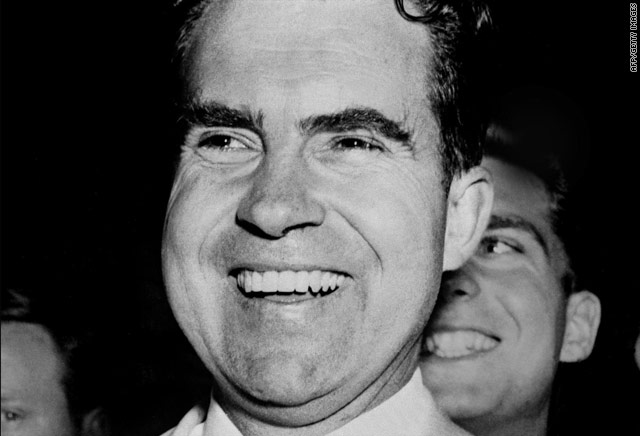 Other political families on the ballot

Video: Obama stumps for Sen. Reid
Ralston also suspects that a majority of Nevadans simply do not want two Reids on the ballot.
"What Harry Reid is doing in his campaign is going to end up hurting Rory Reid. Even if he can convince people to hold their noses and vote for him, they're not going to vote for two Reids. They might vote for Harry Reid ... they'll say 'one Reid is my limit.' "
Harry Reid has come to his son's defense, saying in an interview with the Review-Journal that while he "cares a great deal about him ... he has to run on his own."
For his part, Rory Reid told Fox's Las Vegas affiliate that he thinks "people know who I am and I like the way my first name sounds."
And it's evident. His campaign website's top banner reads, "Rory2010" -- and on the "Meet Rory" biography section, there is no mention of his last name. His first television ad drew criticism because his last name was not mentioned. A recent ad, however, briefly used his last name.
"The story surrounding his first ad was how he didn't mention his last name," Ralston said. "They thought by putting his last name once in another ad, it wouldn't be talked about as much ... It's become such an issue now that it's very difficult for him to get away from it."
And it didn't take long for Republicans to jump on that. In an ad by the Republican Governors Association, two people appearing to be aides walk up to Rory Reid's dressing room. A gold star on the door reads "Rory," with his last name blacked out.
Political blogs and some residents are also poking fun at the name controversy.
The blog Wonkette, in a post titled "Rory Reid No Longer Related to Harry Reid," reads: "It's also funny how the Rory 2010 website refers to all other human beings with their last names, yet not him. Is Rory Reid better than other humans?"
In the letter to the editor section of the Review-Journal, Daniel Maxime of Las Vegas, wrote: "Elvis! Liza! Engelbert! Cher! Madonna! Rory! ... When did Clark County Commissioner and Democratic gubernatorial nominee Rory Reid become a one-name star? Of course, if my last name were Reid, I surely would be running from it this election year."
Ralston said Rory Reid's campaign is overthinking the name issue.
"Everything he does is Rory this, Rory that. How often do you see that in a campaign where someone's just using their first name?" he said. "It just doesn't happen."
So what can the gubernatorial candidate do to turn around his poll numbers?
"He should take a page out of his dad's book: His dad realizes the only way for him to win is to raise his opponent's negatives," Ralston said. "That's the only way that Rory Reid has a chance."
Dan Hart, a political consultant who appeared on Ralston's "Face to Face" television show, said give him time.
"He has to tell people about himself, what he's accomplished, what his goals for the state are," Hart said. "He will, and it will take a bit of time."

FOLLOW THIS TOPIC