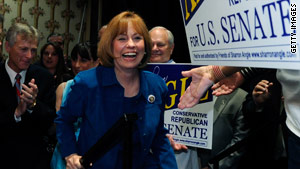 Republican Senate candidate Sharron Angle says she's being "held accountable for every idle word" in her Nevada race.
STORY HIGHLIGHTS
Tea Party candidates face new challenges as they prepare for general election
Sharron Angle, Nevada's GOP Senate candidate, unveiled website omitting some views
Kentucky GOP Senate hopeful Rand Paul criticized for attending Washington fundraiser
Such moves indicate reality of governing, not lack of conviction, "Wingnuts" author says
(CNN) -- The handful of Tea Party-backed candidates who've had successful primary wins now face an ideological dilemma -- and potential backlash -- as they retool for a general election campaign.
Do they stick to their far-right agenda and trust that their conservative credentials will carry them to victory in November, or do they move ahead with a more mainstream, politically expedient message?
"The old, cynical conventional wisdom in politics is that in the Republican Party, you run to the right to win the nomination and then you run to the center to win the general election, and the opposite is true for the Democratic Party," said John Avlon, author of "Wingnuts: How the Lunatic Fringe is Hijacking America."
"What's going to be challenging is that the Tea Partiers ran as ideological warriors attacking the establishment with a refusal to compromise on their principle. ... That makes any pragmatic move to the center a lot more complicated for them to do with any credibility," he said.
Candidates supported by the Tea Party, which is a conservative movement and not a political party, have come under fire from supporters and opponents for moves viewed as plays to the center.
In Nevada, Republican Senate candidate Sharron Angle last week unveiled a revamped website that no longer details some of her more controversial positions, such as her calls to dismantle the U.S. Department of Education and support for a nuclear waste dump facility at Yucca Mountain.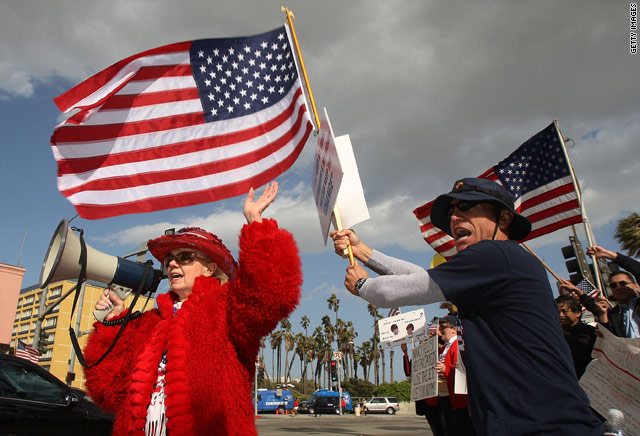 What is the Tea Party?

Video: The impact of the Tea Party
The campaign of Angle's November opponent, Senate Majority Leader Harry Reid, posted a copy of Angle's original site at www.therealsharronangle.com. Angle's campaign sent a "cease and desist" letter to Reid's campaign, saying that the website falsely represented itself as Angle's website.
Reid's campaign temporarily removed the site, but the Nevada Democratic Party reposted it, claiming First Amendment protection. Reid's campaign said Angle was trying to mask her views, but Angle's campaign insisted its Democratic opponent was "doing desperate things to win."
Bill Manders, host of a conservative radio program in Nevada, told Angle last week that if she wants to win, she'll have to "slide to the middle a little bit" and soften up her approach.
Angle told Manders that she has toned it down. "Well, you know, we're in a general election. And they're demanding things. Today, I actually softened because I'm being held accountable for every idle word," she said, explaining that because she's not a career politician, she doesn't always choose the best words.
Rand Paul, who won Kentucky's Republican Senate primary with the help of Tea Party activists and a staunch message of limited government, upset some supporters who said he reneged on a pledge to turn down campaign contributions from any lawmaker who voted in favor of the 2008 Troubled Asset Relief Program.
Last month, Paul attended a Washington fundraiser for him sponsored by some lawmakers who voted for the Wall Street bailout.
"In a primary, you look to define yourself and differentiate yourself from the other primary candidate. In the general, you look to unify and bring people together. I think also Republicans since then are unified against any more bailouts," Paul told WKYU radio in Bowling Green, Kentucky.
Paul Roman, a Tea Party activist who campaigned for Paul, said the fundraiser "goes totally against everything [Paul] said."
"That's a deal-breaker," he said.
But Debra Masterson, another Tea Party supporter in Kentucky, said that because of the cost of his campaign, "I think reality set in for Rand Paul."
Masterson said she doesn't think Paul went back on his primary pledge because "after the primary, a slate is wiped clean."
Avlon said such moves aren't due to a lack of conviction but are more likely a result of candidates having to reconcile the difference between ideological purity and the practical responsibilities of governing.
"When you are all of a sudden confronted with the possibility of real governance, then some of the red meat stops making practical sense. It's not about compromising principles, it's about dealing with reality and the responsibilities of governing," he said.
The degree to which candidates may need to temper more extreme views depends on where they live, said Emory University political science professor Alan Abramowitz.
If Tea Party candidates are in strongly Republican areas, they would probably still have a good chance of winning, even if they are viewed as further to the right that most voters.
"But if they are in a swing state or district, I really do think they are going to have to move toward the center and try to focus on issues that concern the swing voters," Abramowitz said.
The core of the Tea Party message -- a principled, fiscally conservative protest -- has a real ability to appeal to centrists and independent voters, Avlon noted.
Who would have ever expected a Republican to take Kennedy's seat? ... Every seat is up for grabs. ...
--Amy Kremer, Tea Party Express
"It's when some Tea Party candidates or figures start engaging in Obama derangement syndrome that their message starts becoming political kryptonite," he said.
Amy Kremer, director of grassroots and coalition for the Tea Party Express, said Tea Party-backed candidates have seen success this primary season because the message of fiscal responsibility resonates with Republicans, Democrats and independents.
"We've stood on the sidelines for over a year and half now with our protest signs and having these rallies and the time has come to put down the protest signs and pick up the campaign signs," she said. "If we are truly going to effect change, we are going to do that at the ballot box."
Some political observers said electing Tea Party candidates in the primaries could hurt Republicans in November since moderate candidates might fare better in the general election, but Kremer said she's not worried about that.
"Who would have ever expected a Republican to take [Edward] Kennedy's seat?" she said, referring to Sen. Scott Brown's win this year in Massachusetts. "Every seat is up for grabs this November."
CNN's Paul Steinhauser and Shannon Travis contributed to this report.
FOLLOW THIS TOPIC