Obama back on the campaign trail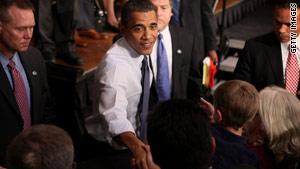 President Obama returns to the campaign trail in Missouri and Nevada on Thursday.
STORY HIGHLIGHTS
Obama attending a fundraiser for Missouri Senate hopeful Robin Carnahan
Carnahan will likely face off in November against seven-term Republican Rep. Roy Blunt
Obama also headlining campaign rally for Senate Majority Leader Harry Reid
"Presidential visits are a double-edged sword," says analyst Stuart Rothenberg
Washington (CNN) -- President Obama plays the role of campaigner-in-chief on Thursday as he travels to Missouri and Nevada to help out fellow Democrats in two crucial Senate races.
On the president's official schedule is a visit to Smith Electric Vehicles in Kansas City, Missouri, where Obama will tour the facilities and deliver remarks on the economy to workers. But the president will also fit in a grass-roots reception and fundraiser in Kansas City for Missouri Secretary of State Robin Carnahan, the presumptive Democratic nominee for Senate.
Carnahan will most likely face off in November against seven-term Republican Rep. Roy Blunt, in a battle between two of the most famous political families in the state. Both candidates are fighting to succeed Republican Sen. Kit Bond, who is not running for re-election this year. The race is one of the few where the Democrats have a chance to pick up a GOP-held seat.
This will be Obama's fifth trip to Missouri since he narrowly lost the state to Sen. John McCain in the 2008 presidential election by fewer than 4,000 votes.
In March, Republicans pounced on Carnahan when she didn't attend an Obama health care reform event in her state, saying she was trying to keep her distance from the president. Carnahan's campaign said she was in Washington for a conference as part of her duties as secretary of state. Carnahan did team up with Obama when he came back to Missouri a month later to hold an event on the economy.
"Presidential visits are a double-edged sword. They raise money for Democratic candidates and energize Democratic voters, but they give Republicans plenty of ammo and interject Obama into every contest," says Stuart Rothenberg, publisher and editor of the nonpartisan Rothenberg Political Report.
Following Obama's stops in Missouri, he will head west to Las Vegas, Nevada, where he will headline a campaign rally and a fundraiser for Senate Majority Leader Harry Reid Thursday night at the Aria Resort and Casino. Polls indicate the four-term Democratic senator faces a tough road to re-election this year. On Friday, before leaving Nevada, Obama will hold an event on the economy at the University of Nevada, Las Vegas. Nevada currently has the highest state unemployment rate in the nation.
Obama headlined a Las Vegas fundraiser for Reid last summer, and the Senate majority leader has appeared alongside the president at events in Nevada earlier this year.
"I'm happy the president's coming," Reid told the Las Vegas Review-Journal on Tuesday.
FOLLOW THIS TOPIC


Part of complete coverage on

Which states helped to swing the House balance of power? See detailed results for ballot measures and races for House, Senate and governor.

See if polls matched up with election results. CNN's Polling Center offers comprehensive election data from national and state pollsters.

Now that the voting is over, who are this year's winners and losers? How will the new House and Senate change key issues that affect millions?

A snapshot of the nation's political pulse. See how participants measured up to our mobile iReport election challenge.

Get in-depth information about the issues that are most important to Americans and join the debate.

Keep up with the latest headlines in the aftermath of the 2010 midterm elections from the Best Political Team.


Most popular stories right now