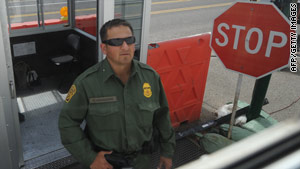 A Border Patrol officer inspects vehicles this week at a checkpoint in Tombstone, Arizona, near the Mexican border.
STORY HIGHLIGHTS
Department of Justice sues Arizona over new immigration law
The challenge is based on the "supremacy clause" of the U.S. Constitution
Proponents say feds aren't doing enough to secure the borders and tackle the issue
Recent polls find strong support for Arizona's tough new law
(CNN) -- The U.S. Department of Justice filed a lawsuit Tuesday seeking an injunction to stop Arizona's tough new immigration law from taking effect later this month.
The law, signed by Gov. Jan Brewer in April, requires police to question people about their status if they have been detained for another reason and if there's reason to suspect they're in the United States illegally. It also targets those who hire illegal immigrant laborers or knowingly transport them.
Here are five key questions about the lawsuit.
Q: What's the Obama administration's argument against the Arizona immigration law?
A: While most of the criticism of the law has been that it could encourage racial profiling, the administration's challenge is based on the so-called supremacy clause of the U.S. Constitution -- that when state and federal laws conflict, federal law is supreme.
In this case, the administration is saying that anything that relates to foreign policy or relations with other countries is strictly the province of the federal government and that Arizona's law interferes with a federal function.

Video: Feds sue Arizona over immigration law

Video: Immigration law sponsor speaks out

Video: Feds vs. state over immigration
"In our constitutional system, the power to regulate immigration is exclusively vested in the federal government," the Justice Department brief said. "The immigration framework set forth by Congress and administered by federal agencies reflects a careful and considered balance of national law enforcement, foreign relations, and humanitarian concerns -- concerns that belong to the nation as a whole, not a single state."
Q: What do proponents of the law say?
A: That the federal government isn't doing enough to secure the borders and tackle an issue they say is plaguing the state's economy and safety.
Brewer, a Republican, said that the Arizona law was designed "to complement, not supplant, enforcement of federal immigration laws,
She said it was "wrong" that the federal government is suing the people of Arizona for helping to enforce federal immigration law, adding: "Today's filing is nothing more than a massive waste of taxpayer funds. These funds could be better used against the violent Mexican cartels than the people of Arizona."
Arizona state Sen. Russell Pearce, a Republican who sponsored the state's law, blasted the lawsuit, telling CNN that the Obama administration has "no leg to stand on."
Q: What happens next?
A: A federal judge is likely to take up the issue as soon as next week, reports indicate.
CNN Senior Legal Analyst Jeffrey Toobin said the lawsuit is most likely headed up the appeals court chain.
"I think this will go to the district court in Arizona first, but it is likely to be appealed to the circuit court of appeals and very likely to the U.S. Supreme Court," he said.
Brewer said she would fight the government lawsuit with the help of a legal defense fund.
Q: What do Americans think about the law?
A: According to a CNN/Opinion Research Corp. poll conducted in May, 57 percent of the public favored the measure, with 37 percent opposed.
Since then, national polls by Quinnipiac University (51-31 percent in favor), ABC News/Washington Post (58-41 percent in favor) and Fox News/Opinion Dynamics (52-27 percent in favor) also indicate that a majority back the new law.
Most of the surveys also indicate that a vast majority want border security beefed up, and that most Americans also favor giving illegal immigrants now living in the U.S. the right to live here legally if they pay a fine and meet other requirements. When asked which issue is most important, a majority of voters say border security trumps immigration reform as the top priority for the federal government.
Q: What's the outlook for federal immigration reform legislation?
A: Several senior Democratic sources said last week they see virtually no chance of Congress taking up such a measure before November's midterm elections.
Still, the sources said it was politically crucial for the president to put pressure on Republicans and reassure angry Latino voters that Democrats haven't forgotten about this issue.
Immigration is not necessarily a make-it-or-break-it issue for the influential voting bloc. A Pew study released in 2008 indicated that Latinos placed immigration second to last on a list of seven policy priorities. The economy, education and health care were ranked as more important.
But in the months since Arizona passed its immigration law, more recent surveys have indicated that the issue has risen to the top for Latinos. A survey commissioned by the National Association of Latino Elected and Appointed Officials indicates that the immigration debate has made Latinos more likely to vote in November.
CNN's John Helton, Kristi Keck and Paul Steinhauser contributed to this report.
FOLLOW THIS TOPIC