Friends, family say farewell to Sen. Byrd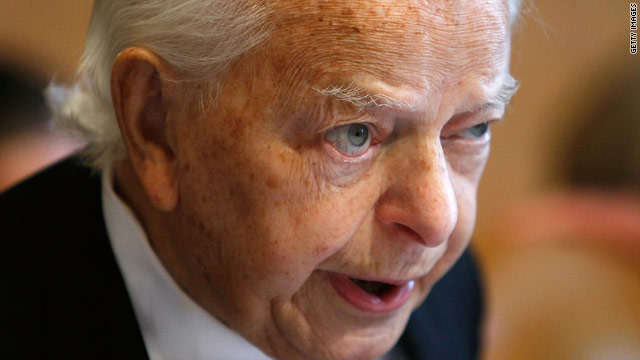 STORY HIGHLIGHTS
NEW: Family, friends hold a memorial service for Byrd in Arlington, Virginia
NEW: Byrd is buried next to his wife, who died in 2006
Byrd served in Congress from 1953 to 2010
He was known as the "King of Pork" for steering federal dollars to home state of West Virginia
Washington (CNN) -- Close friends and family gathered Tuesday to say farewell to Sen. Robert Byrd, the longest-serving member of Congress, who died last week at age 92.
A funeral service was held at Memorial Baptist Church in Arlington, Virginia, followed by a private graveside service at Columbia Gardens Cemetery, also in Arlington. Byrd was buried alongside his wife Erma, who died in March 2006.
The couple will be reburied later in West Virginia once family members determine a location.
The nine-term Democratic senator from West Virginia, who first entered Congress in 1953, was known as a master of the chamber's often-arcane rules and as the self-proclaimed "champion of the Constitution," a jealous guardian of congressional power.
He also was known as the "King of Pork," using top positions on the Senate Appropriations Committee to steer federal spending to his home state -- one of the nation's poorest.
Byrd was an outspoken opponent of the war in Iraq, calling his 2002 vote against a "blind and improvident" authorization of military action the proudest moment of his career.
West Virginia Gov. Joe Manchin -- a Democrat -- has the power to appoint a replacement for Byrd, whose term was to expire in 2013.
FOLLOW THIS TOPIC