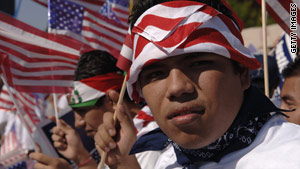 Latino influence in elections has increased steadily over two decades. But turnout this year is unpredictable, experts say.
STORY HIGHLIGHTS
Latino turnout has been on the rise in recent election cycles
Young population, education status key factors in voter turnout
Wooing the Latino vote takes more than "piñata politics," Latino Leadership official says
Going into 2010 and 2012, there's a big question mark on Latino behavior, analyst says
(CNN) -- Each election cycle is dubbed "the year" -- a time when Latinos will show up at the polls in droves and transform the political landscape.
President Obama's renewed push last week for immigration reform has brought with it fresh expectations for the Latino vote in November's midterm elections.
The issue is considered one of symbolic and substantive importance for the community. Four out of five undocumented immigrants are from Mexico or another part of Latin America, according to the Pew Hispanic Center.
While voter turnout among the Latino community has risen in recent years, the adage that there's "strength in numbers" has yet to manifest itself.
"Hispanics are not punching at their weight," said Mark Hugo Lopez, associate director of the Pew Hispanic Center. "Their share of voters doesn't quite match their share in the general population."
But if mobilization efforts change that, the group could be a key voice in November. A study from the pro-immigration reform group America's Voice suggests that Latinos could play a key role in 37 congressional races.

Video: Obama calls for immigration overhaul

Video: Latino journalist on immigration

Video: Latinos react to Obama speech
Voter participation is down across the board in midterm elections, but among Latinos, turnout is especially unpredictable right now, said Antonio Gonzalez, president of the William C. Velasquez Institute, a public policy analysis group.
"Going into 2010 and 2012, there is a big question mark on Latino behavior," he said. "Latinos have suffered so badly from the economic depression. Latinos are very angry about the immigration debate, and we're getting killed in home foreclosures."
At 15.8 percent of the population, Latinos constitute the largest minority group in the United States. African-Americans make up 12.3 percent of the U.S. population, according to the Census Bureau. In 2008, turnout for black voters was 65.2 percent and 67.2 percent for white voters. For Latinos, turnout was 49.9 percent, according to Pew.
But the numbers don't tell the whole story, experts said.
"The issue is not that Latinos are disinterested in politics," said David Leal, an associate professor of government who focuses on Latino politics at the University of Texas at Austin. "Instead, Latino turnout reflects the larger underlying factors that structure the vote for everyone."
The main factors affecting turnout among Latinos apply to all racial and ethnic groups: Many are under the age of 18, and many occupy relatively low rungs on the educational and occupational ladders. No matter what one's ethnicity, those determinants will have a negative impact on turnout, Leal said.
Latino influence in elections, however, has seen a steady increase over the past 20 years. Participation in 2008 was up 2.7 percent from the 2004 election, and is growing faster than any other group.
Gonzalez said there are two reasons for the upward march: Latinos are the fastest-growing group demographically, and for the past generation, there's been a strong push to improve participation.
Still, he said, claims that Latinos played a major role in swinging the presidential election for Obama were "over-reported." Latinos have a solid enough population to swing state and local elections, but "Latinos alone can't swing presidential elections," he said.
Obama captured about 67 percent of the Latino vote in 2008, compared with President Bush's 44 percent in 2004.
Leal said people tend to overestimate the influence of the Latino vote when they focus on population growth.
"While Latinos may be the largest and fastest-growing minority group, the key word in that description is minority," he said. "The best way to assess their political influence is probably not whether they are regularly deciding presidential elections."
In 2008, Latinos were more a part of a winning coalition for Obama than they were responsible for swinging it for him, Leal said.
"They may have made the difference in a few closely divided states, but when states are that closely divided, many groups can probably claim credit," he added.
As the Latino vote grows, so do efforts to court the community. Candidates zigzag through districts to woo voters, but they often end up insulting them instead, said Marytza Sanz, president of Latino Leadership Inc.
"You come and talk piñata politics. You speak Spanish. You have arroz con pollo and then you drink cafe con leche -- and you think you already know my community," Sanz said.
You have arroz con pollo and then you drink cafe con leche -- and you think you already know my community.
--Marytza Sanz, president of Latino Leadership Inc.
"The Latino community needs the same things that any other community needs. We need to purchase homes, we need good health care, we need good roads, good schools," she added.
Latinos on the whole lean liberal, but for the most part, the community views the policy agenda the same way as other groups, Leal said.
"It has not been the case that Latinos rank issues such as bilingual education, immigration reform and affirmative action as the most important in America. Latinos have generally prioritized the same basic issues that everyone else sees as important," he said.
A Pew study released before the 2008 presidential election indicated that Latinos placed immigration second to last on a list of seven policy priorities. The economy, education and health care were ranked as far more important.
But in the months since Arizona passed an immigration law that critics say could lead to racial profiling, more recent surveys have indicated that the issue has risen to the top for Latinos. A survey commissioned by the National Association of Latino Elected and Appointed Officials indicates that the immigration debate has made Latinos more likely to vote in November.
In a high profile speech last week, Obama called on Congress to take action on the issue, but several senior Democratic sources told CNN that they still see virtually no chance of Congress taking up immigration reform before the midterm elections.
Still, the sources said it was politically crucial for the president to give such a speech to put pressure on Republicans and reassure angry Latino voters that Democrats haven't forgotten about this issue.
In addition to being an important substantive issue for Latinos, immigration is also considered a "symbolic issue of significant importance," said David Ayón, a political analyst and senior research associate at the Leavey Center for the Study of Los Angeles at Loyola Marymount University.
"That's the subtext to the whole immigration issue in Washington. Will Latinos turn out for Obama's re-election the way they did for his election?" he asked.
Gonzalez said the Obama administration is supported by Latinos, but the community also is expecting something in return for its vote.
"Latino voters are not like independents who go back and forth. ... They don't swing Republican. They get mad and stay home," he said.
And unless the party in power delivers on immigration reform, Gonzalez said that going into 2010, "If I was the Democrats, I would be very concerned."
CNN's Dana Bash contributed to this report.
FOLLOW THIS TOPIC