STORY HIGHLIGHTS
NEW: Kagan responds to conservative criticism of her qualifications for high court
NEW: Courts are level playing field for all, Kagan says
First heated exchange of hearing is over Harvard military recruiting flap
Sessions says Kagan's statements on the issue are "unconnected to reality"
(CNN) -- Supreme Court nominee Elena Kagan mounted a spirited defense against her Republican critics Tuesday, saying at her Senate Judiciary Committee confirmation hearing that she rejects the empathy standard for judges and believes the written law should be followed, including precedents in most cases.
On the second day of the hearing expected to last through the week, Kagan expressed a judicial philosophy of impartiality and equality, saying the courts provide a "level playing field" for all and advocating for televising high court proceedings.
Republican committee members had used their opening statements to depict Kagan as a deficient nominee because of her lack of judicial experience and the advocacy positions she has held in the Clinton and Obama administrations.
They continued that theme in their direct questioning, with the sharpest exchange occurring between Kagan and Sen. Jeff Sessions of Alabama, the ranking Republican on the committee, over Kagan's role in limiting military recruiters at Harvard Law School because of the "don't ask, don't tell" policy that bars openly gay and lesbian soldiers from military service.
Sessions said Kagan, who was the law school dean, sought to treat the military as second class by denying recruiters access to the campus Office of Career Services and instead requiring them to use the veterans services office.
"We were trying to ensure that military recruiters had full and complete access to our students, but we also were trying to protect our anti-discrimination policy," she said, explaining recruiters still had access to students through the separate office.
Pressed by Sessions, Kagan said, "I do oppose 'don't ask, don't tell.'" Sessions cut her off, saying, "And you did then."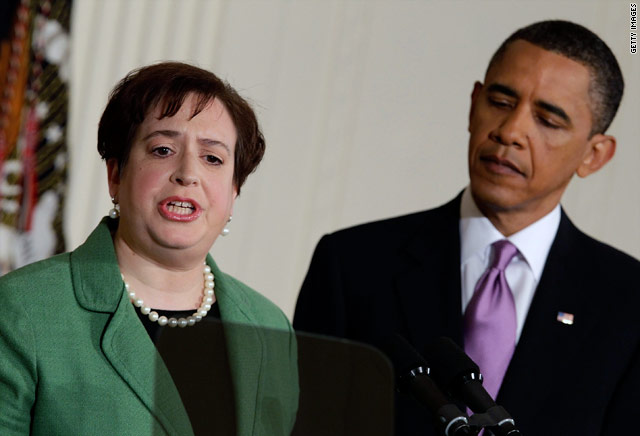 5 big issues to watch for

Video: Court must be 'level playing field'

Video: Kagan: Keep politics separate

Video: Kagan: Military had Harvard access
"And I did then," Kagan said.
Kagan added that she reveres and honors military service, but Sessions said her position is "unconnected to reality" because of her actions against recruiters.
Overall, Kagan came across as confident and assertive, gesturing with her hands as she spoke and referring easily to case law when making points. She repeatedly assured the senators that she would be an impartial judge, saying her past political work was required of her government jobs.
"When a case comes before the court ... the question is not do you like this party or do you like that party, do you favor this cause or do you favor that cause," Kagan said in response to a question by conservative Republican Sen. Jon Kyl of Arizona. "The question is what the law requires."
Asked by Kyl about President Barack Obama's so-called empathy standard, Kagan said a judge "is required to think very hard about what each party is saying, to try to see that case from each party's eyes ... and then to weigh those against each other."
"At the end of the day, what the judge does is to apply the law," Kagan said, echoing the response to the same question from Kyl by Justice Sonia Sotomayor during her confirmation hearing last year.
Kagan also told Kyl that courts allow people from all walks of life to make their case on a level playing field. Asked if that meant the disadvantaged should be favored, Kagan said no, but the disadvantaged should receive equal treatment with anyone else.
"It's just a matter that everybody is entitled to have his claim heard," Kagan said.
The Supreme Court, she said, "has an important role in policing constitutional boundaries," noting that her experience as a policy aide in the Clinton administration showed her the importance of all the branches of government.
Kagan also said that the original framers of the U.S. Constitution were "incredibly wise men" who "wrote a Constitution for the ages."
"Sometimes they laid down very specific rules; sometimes they laid down broad principles," she said. "Either way, we apply what they said, what they intended. In that way, we are all originalists."
On presidential war powers, Kagan cited long-standing Supreme Court precedent in saying that "the circumstances in which the president can act ... despite Congress are few and far between."
Asked by Sen. Dianne Feinstein, D-California, about her past support for allowing Guantanamo Bay terrorism suspects to be detained indefinitely without trial, Kagan said cases must be judged individually. Overall, she said, "if Congress says [the president] can't do something, he can't do something."
Legal precedents should be respected as binding, Kagan said, but she added there are circumstances in which a precedent can be overturned: If it proved unworkable over time, if the "doctrinal foundations of the precedent are eroded," or if the factual circumstances critical to the original decision should change.
If confirmed as expected by the 19-member committee and then the full Senate, Kagan would be the 112th Supreme Court justice and the fourth woman to sit on the nation's highest court.
FOLLOW THIS TOPIC