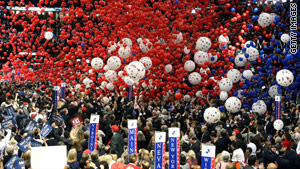 Is it time to start narrowing the field for 2012? In Iowa, the overwhelming sentiment is no.
STORY HIGHLIGHTS
Iowa can make or break a presidential candidacy
A victory in Iowa in 2008 gave then-candidate Barack Obama a huge boost
Rick Santorum, Ron Paul address Iowa Republican State Convention this past weekend
Too early for candidates to appear in Iowa? The overwhelming sentiment is no
Des Moines, Iowa (CNN) -- Just a few days ago, two potential Republican presidential candidates traveled to this Midwestern hub and in a span of 24 hours addressed some of the most powerful GOP conservative activists in the country.
During separate speeches Saturday at the Iowa Republican State Convention, former Pennsylvania Sen. Rick Santorum and Texas Rep. Ron Paul never mentioned their possible candidacies for the 2012 GOP presidential nomination. But neither had to do so. It was a given. This is Iowa after all, the first of three very important stops that can make or break a presidential candidacy.
"We have a disproportionate belief that we get to meet the candidates," Ed Failor Jr., president of Iowans for Tax Relief, said as he looked out at the 1,000-plus Republican activists who sacrificed a Saturday morning for the party gathering. "And people are really put out if it isn't easy for them to meet a candidate. So you have got to be willing to do that work here."
For these Iowa Republicans, if they give up a weekend usually reserved for personal time and family time for politics, so should a possible presidential candidate. And the candidates will, whether it is a Friday or Saturday or Tuesday or Wednesday.
Santorum and Paul have each made multiple stops to the state over the past year. South Dakota Sen. John Thune, Minnesota Gov. Tim Pawlenty, Mississippi Gov. Haley Barbour and former Speaker of the House Newt Gingrich have all visited the state for various events and fundraisers. Even Sarah Palin stopped by for a book signing in December.
"The sooner we know who is out there and who is interested in running, the sooner we can start deciding who we want for our next president," said Karen York, chairperson of the Page County Republican Party.
Iowa is not an exclusive Republican campaign territory. Democratic candidates follow the same path as their GOP rivals when running for their party's presidential nomination: Iowa, New Hampshire and then South Carolina before the rest of the nation weighs in. (In 2008, Nevada was added as another key early state, but it never gained the level of importance of the three).
A victory in Iowa in 2008 gave then-candidate Barack Obama a huge boost and, of course, he went on to win the presidency. With Obama expected to seek a second term, Democrats won't have a presidential primary in 2012, thereby shining the white-hot primary spotlight solely on the Republicans.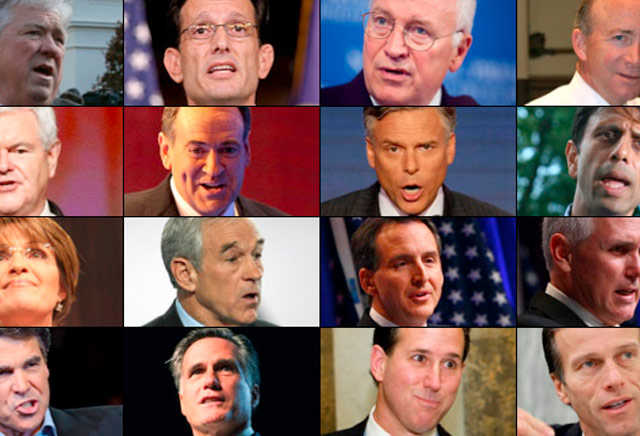 Potential 2012 GOP presidential contenders
Except in Iowa, the first contest is not a primary, it is called a caucus. A caucus is a gathering of neighbors in the bitter cold of winter who pick their candidate. It is the type of political contest that requires candidates to establish a strong campaign presence with a robust get-out-the-vote operation. Republican presidential hopefuls will pour millions of dollars into the state to pay for television and radio commercials, but it is the direct contact between candidate and Iowa voter that often seals the deal.
"They want to be communicated with," Steve Scheffler, president of the Iowa Christian Alliance, said in an interview over an early morning coffee. "They want to evaluate the candidates' stance on issues; their ability to lead. Do they have the character? The intestinal fortitude to be the world's top leader? It is not that Iowans are people that expect to be wined and dined ... they want to vet their candidates and feel comfortable at the end of the day.
"It may take a candidate three or four or five visits to convince them that 'Candidate A' is their candidate," he added.
Frustration is the most accurate way to describe many of these Iowa Republicans, whose concerns range from out-of-control federal spending to the need to secure the border.
"We better get the fiscal situation under control," said Patsy Revak, a delegate at the GOP convention. "They are paying out more to people on the dole than what is coming in. It can't happen forever."
But is it too early for these candidates to appear in Iowa? The overwhelming sentiment is no. After all, it is nice to be courted and wooed, especially if it is from the future president of the United States.
Yet, there are some Iowans who think that the process is starting way too early.
"You know we need to be busy searching out who is out there and who is not, but as far as stretching the whole process out two or three years is ridiculous," said Robert Glade, a delegate at the state Republican convention. "It puts people on overload just like the government the way it is: doing so much so fast. We are just on overload."

FOLLOW THIS TOPIC