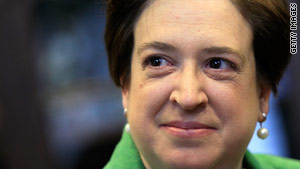 Confirmation hearings for Elena Kagan begin Monday.
STORY HIGHLIGHTS
NEW: GOP senators question whether Elena Kagan can be an impartial jurist on the Supreme Court
NEW: Democrats respond that no Obama nominee would satisfy Republicans
Ranking Republican on Judiciary Committee says filibuster possible of Kagan's Supreme Court nomination
Committee hearing begins Monday
Don't miss a second of the confirmation hearings on Elena Kagan's nomination to the Supreme Court. CNN has gavel-to-gavel coverage all this week on CNN TV, CNN.COM/live, and on the go with the CNN App for iPhone. It all kicks off Monday at noon ET
Washington (CNN) -- Leading senators on the Judiciary Committee signaled a contentious hearing starting Monday on Elena Kagan's Supreme Court nomination, with some Republicans saying a GOP filibuster was possible.
Democrats countered that no nominee from President Barack Obama would have satisfied Republicans.
In an exchange on CNN's "State of Union," Democratic Sen. Robert Menendez of New Jersey chided Republican Sen. John Cornyn of Texas over what Menendez joked were unattainable GOP standards.
"I think if John and some of his colleagues in the Republican caucus had 10 angels coming from above swearing that this person was the most qualified ... for the Supreme Court, was a centrist and would follow the rule of law and obey precedent, they would say 'too extreme,' " Menendez said.
Watch the exchange between Menendez and Cornyn
Cornyn, a Judiciary Committee member, said Kagan needed to prove in the hearings that she was a worthy candidate.

Video: Cornyn: Kagan has 'sparse record'

Video: What's ahead for Elena Kagan?

Video: Friends confident in nominee
"The burden is on the nominee, and the problem is that Ms. Kagan has a very sparse record," Cornyn said. "She hasn't been a judge, which isn't a disqualifier, but that means we don't have a judicial record ... and her main record is that of a political strategist and adviser in the Clinton White House."
According to Cornyn, the question is whether Kagan can "take off the mantle of political strategist, political adviser, and assume the role of a disinterested, impartial judge, calling balls and strikes."
The ranking Republican on the panel, Sen. Jeff Sessions of Alabama, told the CBS program "Face the Nation" that he believes Kagan has "serious deficiencies" as a Supreme Court nominee.
Sessions cited Kagan's lack of experience as a judge and what he called her liberal leanings.
"I think the first thing we need to decide is, is she committed to the rule of law even if she doesn't like the law?" Sessions said.
Pressed about a possible Republican filibuster against the nomination, Sessions said: "It's conceivable a filibuster might occur."
Committee chairman Sen. Patrick Leahy, D-Vermont, responded on the same program by noting that other Supreme Court justices including William Rehnquist and Hugo Black also had no experience as judges before taking their high court seats.
Leahy called Kagan extremely qualified, noting she was the first woman to become dean of Harvard Law School and the first woman to be solicitor general in the U.S. Department of Justice.
Kagan is a "brilliant woman" with a "brilliant legal mind" and would become the 112th member of the Supreme Court, Leahy predicted. If confirmed, Kagan would be the fourth woman Supreme Court justice.
On "Fox News Sunday," Judiciary Committee member Sen. Dianne Feinstein, D-California, noted that Kagan has repeatedly achieved posts previously held only by men, including dean of Harvard Law School.
It was at Harvard where Kagan joined other colleges in trying to block military recruiters because of the "don't ask, don't tell" policy barring openly homosexual service members. Kagan supported the challenge to a federal law requiring that colleges give recruiters equal access or face the loss of federal funding. The Supreme Court unanimously upheld the law in 2006.
Several Republicans mentioned that topic Sunday as a possible reason to oppose Kagan's nomination.
"One thing I'm disturbed about was her obvious steadfast and even zealous opposition to military recruiters, to the presence of military on the campus of the most prestigious university in the view of many in America," Sen. John McCain, R-Arizona, said on NBC's "Meet the Press."
Cornyn said on CNN that in nominating Kagan, Obama was "trying to get somebody through who has a very sparse record and who he believes will be a reliable vote on the left wing of the United States Supreme Court."
Sen. Lindsey Graham of South Carolina, another GOP committee member, said the question was whether Kagan could persuade him she would follow the law despite her liberal political views.
"We're going to have a challenging hearing, and I think she'll do well, but she's going to have to earn her way onto the court," Graham said on the Fox show, adding: "To my conservative friends, you should expect liberals to be picked by Obama, but you should expect us to our job, and that's ... to make sure she's qualified and not an activist."
To Feinstein, Republican opponents have been trying without success to find reasons to oppose Kagan.
"I believe the drift net has been out to find some disqualifying factor and it hasn't been found," Feinstein said on the Fox program.
"She will bring, I think, a new breath into the court," Feinstein said. "It will be a mainstream breath. It will not be far right. It will not be far left. It will be in the middle."
FOLLOW THIS TOPIC