STORY HIGHLIGHTS
Kagan has never been judge, but seeks job on Supreme Court
17 senators will decide whether she deserves a final floor vote
Hearings promise to be intense examination of her record
Washington (CNN) -- The political irony for Supreme Court nominee Elena Kagan is who she is, what she hopes to be and the path necessary to fulfilling a long-held dream.
Confirmation hearings for the 50-year-old academic and government lawyer begin Monday. Although she has never been a judge, Kagan is seeking a lifetime job on the nation's highest court.
To get there, she herself must first be judged -- by 17 senators on the Judiciary Committee, who will decide whether she deserves a final floor vote.
The hearings promise to be an intense examination of her record advocating for two Democratic White Houses and her work as a teacher and administrator at top law schools.
Her nomination has attracted little public attention -- especially in the form of political outrage -- since she was tapped by President Obama May 10 to replace the retiring Justice John Paul Stevens. Administration sources say that is exactly what the White House had hoped for, a low-key process designed to generate little political heat this Washington summer.
"The president probably got exactly what he wanted, and that's not someone who makes the far right or the far left terribly happy," said Thomas Goldstein, a prominent Washington lawyer and founder of scotusblog.com. "She seems to be a centrist, pragmatic progressive, someone who's on the left but not the extreme left."
Kagan is poised to become the Supreme Court's youngest member, with perhaps decades of influence ahead of her. That makes the stakes -- politically and socially -- so high at the week-long hearings.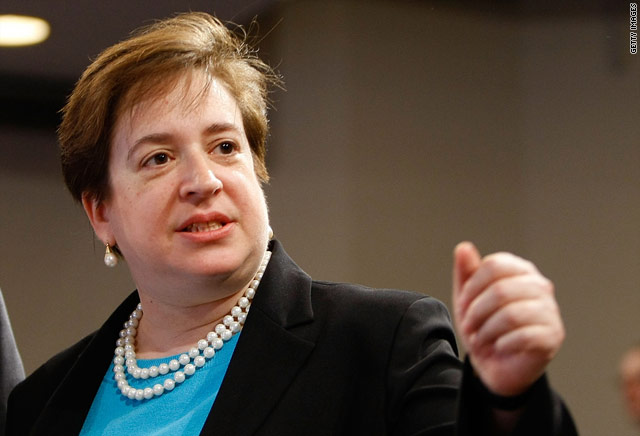 Fast facts: Elena Kagan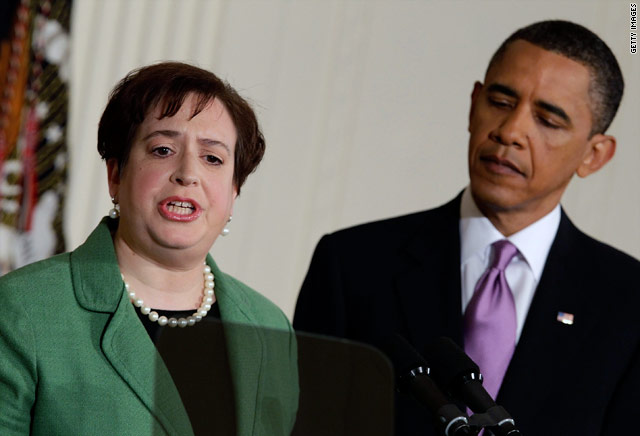 5 big issues to watch for
The nominee herself has been quietly working with White House lawyers to prepare for her moment in the political spotlight. Every aspect of her academic and government service has been scrutinized for clues about the kind of justice she would become. Neither the left nor the right seems to have any clear answers on that all-important question.
"The only thing she's ever done is politics, and so that concern is that she'll just continue that on the bench," said Carrie Severino, chief counsel for the conservative Judicial Crisis Network (JCN)." "She'll continue to be a rubber stamp for the agenda of the administration she works for now."
Top White House aides Friday publicly insisted Kagan would be a fair and impartial judge, and expressed confidence the Senate will agree.
"She is a superb and highly qualified nominee with support from people from all sides of the political spectrum and the legal world," said senior political adviser David Axelrod, "and we anticipate her to be cleared easily."
Administration sources say Obama aides have also tried to quietly assure liberal groups she will be a "reliable" vote on the left, much in the mold of her would-be predecessor, the departing Justice John Paul Stevens.
That has not stopped trepidation from some progressive groups concerned about Kagan's past statements on race, abortion and executive power.
The National Bar Association, the nation's top group of African-American lawyers, has refused to fully endorse Kagan, concerned about her positions as a White House policy aide on racial profiling and criminal drug sentences.
Other groups which last year enthusiastically backed Obama's high court pick Sonia Sotomayor have noticeably withheld their support for Kagan, including the Mexican American Legal and Educational Defense Fund and the Lawyers' Committee for Civil Rights Under Law. Even the NAACP, which has endorsed Kagan, offered "some concerns" about her record and urged senators to ask questions about her commitment to civil rights.
Some abortion rights groups have publicly expressed similar unease about Kagan's views on access to the procedure and government efforts to regulate it.
Such ideological and political discomfort has created quiet rifts inside many advocacy groups and among White House officials eager to court their support in a mid-term election year.
For their part, Republicans have outlined specific areas they will go after of Kagan's record, including:
• Her resistance to allowing military recruiters on campus when she was dean of Harvard's Law School, in the period after the September 11, 2001 terror attacks. This was in response to the Pentagon's "Don't Ask, Don't Tell" policy on gays in the military. In a school-wide memo, she called the policy a "profound wrong."
• Her often sharply-worded and politically-focused views as a top aide in the Clinton White House on a range of hot-button social issues like gun rights, mandated health care and regulating the tobacco industry.
Aides to several GOP senators privately do not believe Kagan's nomination can be derailed at this point, and enthusiasm for a filibuster has not gained traction. Many on the right express some frustration that no one issue has emerged to slow the momentum for confirmation. Political and legal analysts agree.
"There doesn't seem to be a real Achilles heel for her, something that Republicans might genuinely go after," said Goldstein, who has closely followed seven past high court nominations. "But she has been very critical of the confirmation hearings and nominees themselves, who have not been giving detailed answers. That could create some problems for her if she is now unwilling to open up for the senators."
In 1995, while a law professor at the University of Chicago, Kagan said she believed recent high court confirmation hearings were a "vapid and hollow charade."
For someone who lacks experience as a judge, but plenty as a politically-attuned government lawyer, Kagan is expected to hear many questions about just how she sees the role of a judge.
However, there has been bipartisan praise for Kagan's consensus-building skills with those of differing viewpoints, an asset legal and political experts think will benefit her on a divided court.
"President Obama couldn't really hope to appoint somebody who's going to really change the views of conservatives on the Supreme Court," said Goldstein. "What he could hope for, and what he may well have gotten, is a nominee who has the skill set to find accommodations between left and right, to find common ground with them. And in that way, maybe pull the court a little to the left."
But many on the right worry Kagan's resume will lead her to think as a politician first and a judge second.
"We're concerned Kagan's technique as a judge will be the same one she has shown as a political operative thus far -- to look at the policy end she wants to achieve and find the best legal basis she can do to justify it," said Severino of the JCN. "That could prove to be a very weak legal basis."
Kagan herself has made no public statements since her nomination more than six weeks ago. Obama at the time expressed his hope of the kind of judge Kagan might become, saying "understanding of law, not an intellectual exercise of words on a page, but as it affects the lives of ordinary people, has animated every step of Elena's career."
CNN's Kate Bolduan contributed to this report.
FOLLOW THIS TOPIC