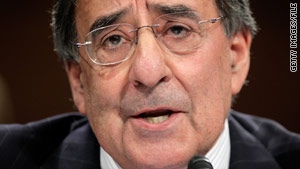 CIA Director Leon Panetta said Afghanistan is going "slower" than anticipated.
STORY HIGHLIGHTS
NEW: Panetta says al Qaeda's use of sleeper agents a top threat
NEW: Iran working on nuclear capability, but still at least a year from weapon, Panetta says
Progress in Afghanistan harder, slower than anticipated, Panetta says
Estimates 50 to 100 al Qaeda terrorists remain in Afghanistan
Washington (CNN) -- CIA Director Leon Panetta said Sunday that the war in Afghanistan had "serious problems," but the U.S.-led mission was making progress.
"It's harder, it's slower than I think anyone anticipated," said Panetta, the nation's top intelligence officer, in a rare media interview with the ABC program "This Week."
He cited governance problems, drug trafficking and the Taliban insurgency -- all in a tribal society -- as the major challenges to the goal of "making sure al Qaeda never finds another safe haven from which to attack this country."
"Winning in Afghanistan is having a country that is stable enough to ensure that there is no safe haven for al Qaeda or for a militant Taliban that welcomes al Qaeda," Panetta said.
Noting increased violence against U.S. and NATO forces in Kandahar and Helmand provinces, Panetta said the "key to success or failure is whether the Afghans accept responsibility" for securing and governing their country.
He downplayed the chances of a political reconciliation process succeeding in Afghanistan, saying the Taliban and its allies would only take part if they believed they faced certain defeat.
"We have seen no evidence that they are truly interested in reconciliation, where they would surrender their arms, where they would denounce al Qaeda, where they would really try to become part of that society," Panetta said.

Video: Is Panetta right about Afghanistan?

Video: Fareed's Take: Petraeus a 'masterstroke'

Video: Uncertainty about Afghanistan
Panetta estimated that no more than 50 to 100 al Qaeda terrorists were in Afghanistan -- mainly in Kandahar -- and he said that Osama bin Laden remains in "very deep hiding" in the tribal areas of Pakistan near the Afghanistan border.
"He obviously has tremendous security around him," Panetta said of the al Qaeda leader sought by the United States in connection with the September 11, 2001, terrorist attacks.
With further efforts to disrupt al Qaeda operations and kill al Qaeda leaders in Afghanistan, "we think ultimately we can flush out" bin Laden and Ayman al-Zawahiri, the group's second-in-command, Panetta said. However, he acknowledged it had been years since the U.S. had any good intelligence on the precise location of bin Laden.
Panetta also made clear that the threat from al Qaeda remains the nation's main concern, noting the group's use of people who lack any terrorism record -- such as the suspect in the botched bombing attempt of a U.S. airliner on Christmas day -- as a way to infiltrate U.S. safeguards. He also mentioned sleeper agents already in the country and people who "self-radicalize," such as Maj. Nidal Hasan, the suspect in the Ft. Hood, Texas, shootings.
"Those kinds of threats represent I think the most serious threat to the United States right now," Panetta said.
On Iran, Panetta said the Tehran government continues to develop the capability to build a nuclear weapon, but that debate exists within the country on whether to actually do so.
"We think they have enough low-enriched uranium right now for two weapons," Panetta said. "They do have to enrich it, fully, in order to get there. And we would estimate that if they made that decision, it would probably take a year to get there, probably another year to develop the kind of weapon delivery system in order to make that viable."
Regarding another nuclear "rogue" state -- North Korea -- Panetta said the question of who will succeed leader Kim Jong Il is likely behind recent military acts such as the alleged sinking of a South Korean navy ship.
"I think that could have been part of it, in order to establish credibility for his son," Panetta said of a likely successor, adding: "His son is very young. His son is very untested. His son is loyal to his father and to North Korea, but his son does not have the kind of credibility with the military, because nobody really knows what he's going to be like."
However, Panetta said he doubted there would be further escalation, noting that "in the end, they always back away from the brink, and I think they'll do that now."
FOLLOW THIS TOPIC