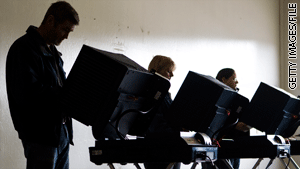 Iowa's GOP gubernatorial nominee said he is confident voters will support him when it's time to vote.
STORY HIGHLIGHTS
Terry Branstad won bitter GOP primary over Bob Vander Plaats
Vander Plaats' plans still are uncertain, but he might run as an independent
Hard feelings linger, and Vander Plaats has strong conservative support
Branstad cites New Jersey race as indicative of how Republicans will vote
Des Moines, Iowa (CNN) -- Iowa Republican gubernatorial nominee Terry Branstad looks east when asked if he is concerned about a possible third-party candidacy by rival Bob Vander Plaats.
Past Illinois and Indiana, Ohio and Pennsylvania is the traditionally politically "blue" state of New Jersey, whose voters elected a Republican governor last year. GOP challenger Chris Christie defeated Democratic incumbent Gov. Jon Corzine there in 2009 despite the presence of a third-party candidate, Christopher Daggett.
"Look what happened in New Jersey last year," Branstad told CNN Saturday, before Vander Plaats lost his bid to become the GOP nominee for lieutenant governor. "They had an independent candidate and, as you got closer and closer to the election, people looked at the choice, 'You want this Corzine or do you want Chris Christie?' They went for Chris Christie."
It is unclear what Vander Plaats plans to do. He lost the gubernatorial primary on June 8, and delegates at the Iowa Republican Party State Convention on Saturday chose Branstad's handpicked running mate, state Sen. Kim Reynolds, to be the party nominee for lieutenant governor.
But Vander Plaats has loyal backers -- the kind of support that has helped fueled the idea of an independent bid for governor. Vander Plaats acknowledged during an interview Friday some interest in a third-party bid, but added that he has "not made that decision." Vander Plaats said in an interview with WHO News Radio 1040 that one of his main criteria would be if "I believe I'd have a clear chance of winning."
It is the kind of statement that is endorsed by some Republicans and opposed by others.
"I vote for who I think would be the best person for that office, not for who I think is going to win," said Jessica Quick, a 43-year-old Republican who supports an independent run by Vander Plaats.
Patsy Revak, a 56-year-old Republican, said Branstad is "not conservative enough" for her tastes and dismissed the idea that she would be "throwing away" her vote if she were to support a Vander Plaats third-party bid.
"He needs to make sure the people have a voice," Revak said about Vander Plaats. "I've always been kind of on the cusp of do you vote your principles, and you have got to consider the throwaway vote issue. It is time for the Republicans to become what they used to be or what conservative America wants them to be. We are losing our country."
But Republicans such as Rod Roberts, who also ran unsuccessfully in the gubernatorial primary, said it is time for the GOP to rally around Branstad, who served as governor from 1983 to 1999.
"The will of the people was expressed at the ballot box and the people nominated Terry Branstad," Roberts told CNN. "I support Gov. Branstad. I support his nominee and will do all I can to help him get elected."
Hard feelings between Branstad and Vander Plaats linger from the bruising primary battle. And an attempt to broker an endorsement failed after the two rivals were unable to agree on a suitable position for Vander Plaats, such as being Branstad's running mate. In 2006, Vander Plaats was the GOP's nominee for lieutenant governor.
"I didn't offer him a specific role, but I said we would like to see him stay involved," Branstad told CNN. "He said he would like to be lieutenant governor and I said that was tried four years ago. We are not going to do that, but we certainly want you to stay involved. But it is all about him."
Iowa Republicans and Democrats now wait to see Vander Plaats' next move. Will he launch a third-party bid? And, if not, will he join the Branstad team? Either way, Branstad is moving forward -- with or without Vander Plaats' support.
"I am interested in leading the whole party to victory and we are going to do that," the former governor said.
FOLLOW THIS TOPIC