Obama arrives in Canada for economic summit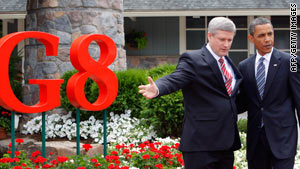 Canadian Prime Minister Stephen Harper greets President Obama in Huntsville, Ontario, on Friday.
STORY HIGHLIGHTS
G8, G-20 meetings being held in Ontario this weekend
Meetings taking place against backdrop of economic uncertainty
Obama: national economies are "inextricably linked"
United States, European Union diverge over questions of growth, deficits
Toronto, Ontario (CNN) -- President Obama arrived in Ontario on Friday for a series of high-stakes economic meetings with leaders from around the world.
Obama, who was greeted in Toronto by America's ambassador to Canada, David Jacobson, is set to meet first with his counterparts in the G8 nations, followed a broader G-20 summit over the weekend.
The meetings are taking place against a backdrop of continued economic uncertainty, with demands for more government stimulus balanced against fears of runaway deficits. At home, the Obama administration is struggling to push a new economic relief package through an increasingly skittish, debt-wary Congress. Overseas -- particularly in Europe -- leaders are increasingly being forced to enact unpopular fiscal austerity measures.
Also hovering over this weekend's meetings is the specter of protests and violence, which have plagued other recent meetings of world economic leaders.
Friday morning, before departing the White House, Obama referred to agreements reached in the first two G-20 summits he attended and added, "This weekend in Toronto, I hope we can build on this progress by coordinating our efforts to promote economic growth, to pursue financial reform, and to strengthen the global economy.

Video: Poised to pass financial reform
"We need to act in concert for a simple reason: This (recent economic) crisis proved and events continue to affirm that our national economies are inextricably linked -- and just as economic turmoil in one place can quickly spread to another, safeguards in each of our nations can help protect all nations."
Obama fears that a rollback too soon from government stimulus packages would send the world back into recession. The European Union, on the other hand, has sent a letter to all G-20 leaders asking for substantial budget cuts to come no later than 2011.
Also high on the agenda will be reforms to global banking regulations. Although all G-20 nations have pledged banking reforms, the reforms being considered in Europe and North America are diverging. Britain, France and Germany are calling for taxes on banks to pay down deficits and cushion future financial shocks. The U.S. government wants to discourage additional taxes, which officials fear would stunt consumer demand.
The weekend's sessions will offer a first appearance on the world stage for British Prime Minister David Cameron and Japanese Prime Minister Naoto Kan. Both leaders arrived in Toronto on Thursday.
The G8 meeting opens Friday at Deerhurst Resort in the Muskoka region of Ontario. The G-20 meeting opens Saturday in Toronto.
CNN's Jim Boulden contributed to this report
FOLLOW THIS TOPIC