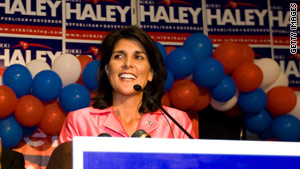 Republican Nikki Haley will face Democrat Vincent Sheheen in South Carolina's governor's race in the fall.
STORY HIGHLIGHTS
Nikki Haley defeats opponent U.S. Rep. Gresham Barrett by more than 30 points
Democratic state Sen. Vincent Sheheen will be Haley's general-election opponent
He wants support from those uncomfortable with Haley's ties to Gov. Mark Sanford
In victory speech, Haley thanked Sanford for encouraging her to run for governor
Columbia, South Carolina (CNN) -- Nikki Haley -- a 38-year old Indian-American state legislator who could become South Carolina's first female governor -- captured the Republican nomination in dominant fashion Tuesday, dispatching her opponent, U.S. Rep. Gresham Barrett, by a more than 30-point margin.
"This is a great night for the Republican Party, which is getting behind the people who have said we want a conservative government and government that is accountable to the people," Haley told supporters at her victory rally in Columbia. "South Carolina just showed the rest of the country what we're made of."
But she added: "Don't get too excited; we're not there yet."
Barrett, who captured 35 percent of the vote to Haley's 65 percent, conceded that Tuesday's result was mostly a foregone conclusion.
"It might not have been a close race," Barrett said. "But it was a good race for South Carolina. It was an honest conversation about the future of this state and the conservative reforms we need for this generation and the next to prosper."
Haley's general election opponent will be state Sen. Vincent Sheheen, arguably the most formidable statewide candidate Democrats have fielded in a decade.

Video: Haley gives victory speech

Video: Haley wins S.C. GOP primary
While the Republican runoff election and the mystery surrounding Democratic Senate nominee Alvin Greene commanded most of the national media attention since June 8, Sheheen spent the two weeks since he won the nomination quietly traveling the state and dialing donors.
Sheheen, keen on attracting support from establishment Republicans and business leaders uncomfortable with Haley's ties to Gov. Mark Sanford, speaks fondly of Carroll Campbell, the popular former GOP governor who lured international business to the state and ushered in a period of economic growth in the '90s.
Sheheen told CNN he has been "flooded with calls from business-oriented Republicans who want to see job creation, who want to see cooperation again between the government and private sector."
Sheheen, who hails from rural Kershaw County, said his main focus in the general election will be to repair the public education system and create jobs in a state grappling with 11 percent unemployment. But he made clear he plans to tie Haley to Sanford and his battles with the Republican-controlled state Legislature.
"I think that Haley's approach and reputation is more of divisiveness and more of a Mark Sanford-style of leadership that he brought here from Washington, from his time in Congress, that brought a lot of inaction and bickering to South Carolina," he told CNN.
Sheheen raised an impressive $1.5 million during his primary, and met with an official from the Democratic Governors Association last week.
"I understand that this is South Carolina, that this is 2010, but Vincent is an extraordinarily qualified candidate," said Nathan Daschle, the association's executive director. "He's a better candidate than we've had in South Carolina in a long time."
Daschle said that "the prospects of us getting involved have greatly increased in the last month" as it became clear that some in the Republican ranks are not prepared to back Haley.
Despite Haley's resounding wins in the primary and runoff elections, she still must overcome long-standing GOP divisions between small-government activists loyal to Sanford and establishment figures with close ties to the business community.
Haley made efforts during the runoff to alleviate some of those concerns, campaigning with establishment figures who endorsed her bid. She appeared with former Massachusetts Gov. Mitt Romney, and had South Carolina Attorney General Henry McMaster, a former Republican primary rival, closely by her side at nearly every campaign appearance.
The state GOP has scheduled a "unity rally" in Columbia on Wednesday morning that will feature both Haley and Barrett. But there remains some grumbling in the Republican ranks.
The South Carolina Chamber of Commerce, for instance, endorsed Barrett and Sheheen in the primaries but refused to endorse Haley. The chamber's chairman and CEO, Otis Rawl, told CNN the Sheheen endorsement stands and said the group will support the Democrat in the general election.
"Haley is out there talking about taking on legislators," Rawl said. "We have had eight years of combativeness. We have been at a standstill. We do not believe we need to have four more years of the same type or process, where the General Assembly and the governor are not working together to create a business-friendly environment."
Sanford disputed those claims in a CNN interview Tuesday, saying that Haley's dominant win proves that a message of fiscal restraint and government restructuring resonated with voters.
Though the governor stressed that Haley won the nomination "on her own," he boasted that her win "says a lot about the ideas that we share." Sanford said it would be a "flawed strategy" for Democrats to run against the kind of principles that he and Haley espouse.
"The reality is that you cannot score that kind of electoral majority that she saw, you can't be at that spot, and be out of touch with the electorate," he said.
Though Sanford didn't quite agree with the Republican Governors Association, which trumpeted Haley's win Tuesday as "a new era of South Carolina politics," he did note his state "is in the process of breaking glass ceilings."
"It's a commentary on where people really are in South Carolina," Sanford said.
In her victory speech, Haley thanked Sanford for encouraging her to run for governor and praised his efforts to reduce the size of government.
FOLLOW THIS TOPIC