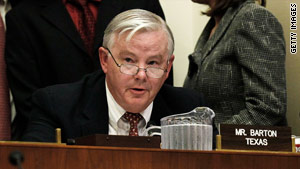 Rep. Joe Barton, R-Texas, raised eyebrows last week with his defense of BP at a congressional hearing.
STORY HIGHLIGHTS
NEW: Committee Republicans dispute claim that Barton spoke from prepared text
Top White House official calls Barton apology to BP reflective of GOP pro-business philosophy
Chief of Staff Rahm Emanuel says Barton's comment could be factor in congressional elections
Republicans distance themselves from Barton, criticize Obama over response to disaster
Washington (CNN) -- A top Democrat kept up the Joe Barton drumbeat Sunday, saying the Republican legislator's defense of BP last week was an example of GOP ideology that favors big business.
Republicans seeking to change the subject countered that the nation's focus should be on efforts to stop the Gulf oil gusher and criticized the Obama administration for failing to make that happen.
The statement last Thursday by Republican Rep. Joe Barton of Texas -- which was quickly retracted under pressure from House GOP leadership -- provided Democrats an opportunity to deflect growing public disenchantment with how the government was responding to the oil disaster.
Acknowledging the political gift handed to his party by Barton, White House Chief of Staff Rahm Emanuel told the ABC program "This Week" that Barton's comment and other pro-BP statements by Republicans including Kentucky Senate candidate Rand Paul would be a factor in the November congressional elections.
"In case you forgot what Republican governance is like, Joe Barton reminded you," Emanuel said, calling Barton's comments a "philosophy" that considered BP the "aggrieved party" instead of the oil giant responsible for the worst environmental disaster in U.S. history.
"These aren't political gaffes -- Joe Barton was speaking from prepared remarks," Emanuel said, calling the comment reflective of a GOP approach that considers the government to be the problem, not BP.

Video: Sen. Murkowski responds to DNC ad

Video: BP's $20 Billion Fund
However, a statement later Sunday from the House Energy and Commerce Committee Republicans said Barton spoke off the cuff. The statement included what it said were his prepared remarks, which made no mention of an apology to BP or criticism of the fund the company created to pay for damages from the oil spill.
Republican Sen. Lisa Murkowski of oil-rich Alaska also challenged Emanuel's comments, telling the CNN program "State of the Union" that the White House chief of staff was trying to deflect attention away from the magnitude and severity of the oil disaster.
"Let's not be distracted by saying, you know, Joe Barton made this gaffe or this -- this inappropriate comment," Murkowski said. "Let's focus on what we need to do, which is getting relief to the Gulf, making sure that they have every asset possible, making sure that we've got a claims compensation system that works for them. Let's focus on providing what the people of the Gulf need, not pointing fingers back and forth and saying, 'oh, you know, what you said was wrong.' "
At a House committee hearing intended to grill BP CEO Tony Hayward, Barton instead drew the headlines for an opening statement that apologized to BP over the $20 billion account to pay damage claims that the company created at the request of President Barack Obama.
"I am ashamed of what happened at the White House yesterday," said Barton, the ranking Republican on the panel. "I think it is a tragedy of the first proportion that a private corporation would be subjected to what I would characterize as a shakedown -- in this case a $20 billion dollar shakedown."
Democrats including Vice President Joe Biden and White House Press Secretary Robert Gibbs immediately criticized Barton, and Republicans quickly distanced themselves from their colleague. By mid-afternoon, Barton issued a statement retracting his apology to BP and instead apologizing for calling the fund a shakedown.
Now the Democratic National Committee is promising a television ad focusing on Barton's comment, and Emanuel made sure to keep the issue alive on Sunday.
Murkowski and her Republican colleague Sen. Richard Shelby of Alabama, both criticized Barton's comment, with Shelby calling it a "dumb mistake" and declaring on the CBS program "Face the Nation" that his party believed the oil disaster was a "man-made incident, a big mistake" by BP.
"They tried to do it on the cheap, I believe, made some shortcuts and they paid for it, and now we paid for it," he said of the massive oil leak. Shelby also invited two of the Republicans cited by Emanuel -- Barton and Paul -- to visit the Gulf Coast region and witness themselves what is happening.
However, Shelby also added that Barton "only spoke for himself -- that is not mainstream Republican thought."
On the same program, though, Democratic Sen. Bill Nelson of Florida said Barton's comment was "illustrative that the oil industry rules the roost." He noted that senators from major oil-producing states were trying to prevent the chamber from voting on a bill that would greatly increase the liability of oil companies for damages from spills.
FOLLOW THIS TOPIC