Arizona governor: Government planning to sue over immigration law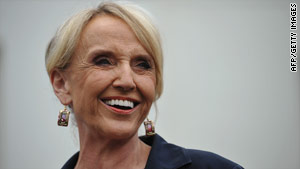 Arizona Gov. Jan Brewer says she is "stunned and angered" by Clinton's statement that a lawsuit would be filed.
STORY HIGHLIGHTS
Secretary Clinton said in recent interview that lawsuit is planned
Law requires police to check legal residency during criminal investigations
Critics warn bill could lead to ethnic profiling
State officials say it is needed to stem illegal immigration
(CNN) -- Arizona Gov. Jan Brewer is fuming over a comment by Secretary of State Hillary Clinton to an Ecuadorean television station that the government will file a lawsuit against Arizona's new immigration law.
In a statement Thursday, Brewer said she learned of plans for the lawsuit from the June 8 interview Clinton gave to NTN24.
According to a transcript of the interview, Clinton said that President Barack Obama had spoken out against the law because he believes the federal government should set immigration policy.
"And the Justice Department, under his direction, will be bringing a lawsuit against the act," Clinton said in the interview.
On Thursday, a Justice Department spokesperson said no final decision had been made on the matter.
"The department continues to review the law," said the spokesperson, Tracy Schmaler.
Brewer's statement said she was "stunned and angered" by Clinton's statement that a lawsuit would be filed.
"To learn of this lawsuit through an Ecuadorean interview with the Secretary of State is just outrageous," Brewer said in the statement. "If our own government intends to sue our state to prevent illegal immigration enforcement, the least it can do is inform us before it informs the citizens of another nation."
The Arizona law, which is scheduled to take effect on July 29, requires police to check proof of legal residency when investigating a suspected crime.
Critics say it will lead to racial profiling and prevent police from doing their jobs by undermining trust in the Latino community. City governments and organizations opposed to the law have targeted Arizona with protests and boycotts, and the American Civil Liberties Union is leading a court challenge against it.
Brewer and other Arizona officials say the law is necessary due to the increasing number of people illegally entering the state from Mexico. In addition, Brewer has said the law does not target an individual's specific ethnicity.
"It wouldn't matter if you are Latino or Hispanic or Norwegian," she said on June 3. "If you didn't have proof of citizenship and the police officer had reasonable suspicion, he would ask and verify your citizenship. I mean, that's the way that it is. That's what the federal law says. And that's what the law in Arizona says."
Obama has called for increased National Guard troops to bolster border guards in Arizona, but critics say his plan is insufficient. In response, Obama says the illegal immigration problem is vast and complex, requiring a comprehensive approach that deals with people already in the country illegally as well as tightening border security.
Brewer's statement Thursday said she was still waiting for more details promised by Obama on his planned deployment of more National Guard troops.
FOLLOW THIS TOPIC