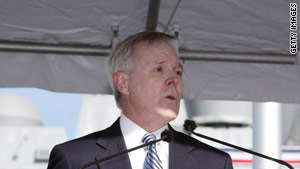 Navy Secretary Ray Mabus has been appointed by President Obama to create a plan to help Gulf restoration efforts.
STORY HIGHLIGHTS
Ray Mabus was governor of Mississippi from 1988-1992
When nominated for top Navy post, he was called "proven leader" by White House
He also has served as ambassador to Saudi Arabia
His ex-wife made national news suing church for secret tapes made while couple was going through divorce
(CNN) -- Navy Secretary Ray Mabus, who will develop a long-term plan for the restoration of the states affected by the massive oil leak in the Gulf of Mexico, is a former governor of Mississippi whom the White House has called a proven leader.
The 61-year-old Mabus was selected by President Obama on Tuesday to help draw up the government's plan for recovery efforts in conjunction with officials in the Gulf Coast states.
"The plan will be designed by states, local communities, tribes, fishermen, businesses, conservationists, and other Gulf residents. And BP will pay for the impact this spill has had on the region," Obama said in a nationwide address from the Oval Office.
Last year when Mabus was selected to lead the Navy, the Obama administration released a statement that said: "The president nominated Governor Mabus to be secretary of the Navy because he has the proven leadership and experience our nation needs to serve in this important position."

Video: Obama's plan to battle disaster

Video: New Orleans evaluates Obama promise

Video: Another oil disaster?

Video: Oil execs taken to task over safety
Mabus was born and raised in Mississippi, attending college at the University of Mississippi. He earned a master's degree at Johns Hopkins University before enlisting in the Navy near the end of the Vietnam War. He served as a surface warfare officer on the USS Little Rock in 1971 and 1972. After the Navy he attended Harvard Law School.
The Democrat was elected to office for the first time in 1983, becoming Mississippi's state auditor. Five years later, Mabus became governor at age 39, the youngest state leader in the nation at the time, according to the Mississippi Historical Society.
Mabus was named one of Fortune magazine's Top 10 education governors in 1990, according to his biography on National Governors Association website. He was defeated in his re-election bid by Kirk Fordice.
In 1994, Mabus was appointed by then-President Bill Clinton as the ambassador to Saudi Arabia where he served for two years before returning to Mississippi to become a businessman.
His divorce in 2000 made national headlines because it involved secret recordings of conversations with an Episcopal priest and his first wife, Julie Hines. During the recordings, she revealed an affair, and the tapes helped Mabus win legal custody of the couple's two daughters, according to the New York Times. They share physical custody.
Hines sued the priest and the church, citing privacy rights, but the suit was dismissed in 2006, the Times reported.
Mabus led Foamex, a maker of cushion products, out of Chapter 11 bankruptcy in 2007, according to his biography on the Defense department's website.
He was chosen by Obama to be Secretary of the Navy in May 2009.
FOLLOW THIS TOPIC