Obama to discuss oil-leak containment strategy in address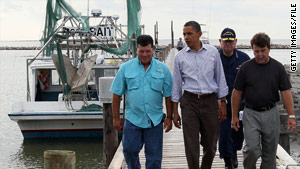 President Obama visits Grand Isle, Louisiana, on June 4. He'll make another visit to the Gulf on Monday.
STORY HIGHLIGHTS
More detail emerging about address
15-minute speech covering range of issues
Address set for 8 p.m. ET Tuesday
Coden, Alabama (CNN) -- President Barack Obama will discuss the oil-leak containment strategy in his Tuesday night speech about the Gulf oil disaster, a senior administration official told CNN Monday.
Obama is expected to speak for about 15 minutes, beginning his remarks with the latest from "two days spent in the Gulf region and what we've done to respond to the worst environmental disaster in our nation's history."
This comes as more details are emerging about the president's planned address to the nation, set for 8 p.m. ET Tuesday and hours before Obama meets with BP executives for the first time since the oil crisis began.
The official said Obama will talk about the reorganization of minerals management at the Department of Interior.
Along with the containment strategy, he will also discuss BP's claims process and what Obama's administration is doing to make it fast, efficient and transparent and to insure its independence from BP.
Obama will talk about the beginning of a process to restore the Gulf to a place better than it was before the Deepwater Horizon exploded. He will also mention what must be done to decrease dependence on oil and other fossil fuels.
FOLLOW THIS TOPIC


Oil disaster: Tracking the numbers
Part of complete coverage on

A number of organizations are recruiting volunteers to help clean up coastal areas

Get the numbers, see the images and learn how the worst U.S. oil spill has changed lives, ruined economies and more.

These stories help us look into the lives of the hardworking people of the Gulf as they watch this disaster take its toll.

Is your area being affected by the spill? Help CNN track the oil slick and its effects on Gulf Coast communities and wildlife


Most popular stories right now