Angry Obama replaces optimistic Obama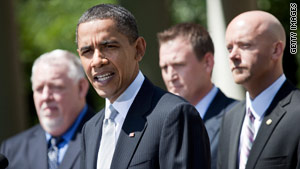 Obama's anger reflects the mood of millions of Americans over the Gulf oil spill.
STORY HIGHLIGHTS
Obama's anger reflects mood of millions of Americans
Optimism when Obama became president has been replaced by anger
President can't afford to be seen looking cheerful while oil spill continues
Obama is getting angry.
The calm and coolly articulate man once dubbed 'No Drama Obama' chose some surprising profanity this week to demonstrate a different side of his personality.
Facing criticism that he hasn't been involved or emotional enough about the oil leak that is now the worst environmental disaster in U.S. history, President Barack Obama insisted that he's working closely with experts on a very particular goal.
"We talk to these folks because they potentially have the best answers," he told our colleagues at NBC News, "so I know whose ass to kick."
Obama may be angry the same way that millions of Americans are. An oil-rig accident that started out bad -- with the deaths of 11 workers - has gotten much worse. It's become a national catastrophe and media obsession that's dragged on for nearly two months.

Video: Obama: Oil crisis at top of our list

Video: Can Obama afford to be angry?
Polls suggest it's also now a political problem for the president and that may be a factor in his show of anger as well.
After the infamously slow emergency effort that followed Hurricane Katrina in 2005, an ABC News/Washington Post poll that found 62 percent of respondents thought poorly of the Bush administration's response.
The same poll now finds that even more Americans -- 69 percent -- have a negative opinion of the Obama administration's work since the spill.
There may be something larger happening too.
Americans felt optimistic when they elected Obama president more than a year and a half ago.
Now, under the pressure of a still sluggish economy and stubbornly high unemployment, Americans tell pollsters they are angry about the state of the country. Is it a coincidence that the president's own persona is beginning to reflect that?
Obama is not turning into a ranting populist railing against the oil industry. But America's sour mood is being darkened further by the oil coming ashore on its south coast. The president clearly doesn't want to look too cheerful about the challenge.