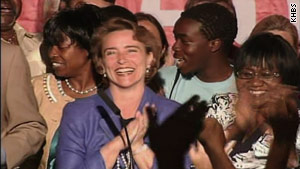 Sen. Blanche Lincoln says her team may have underestimated the anti-incumbent mood.
STORY HIGHLIGHTS
Sen. Blanche Lincoln avoided reporters for much of 2009's health care debate
Arkansas Democrats felt she disappeared at home, too; liberal groups, unions ran attack ads
"Better-late-than-never" Blanche turned it back on just in time to win runoff
"I would say that we may have underestimated the anti-incumbent mood," Lincoln says
Washington (CNN) -- One day late last year, Blanche Lincoln held a news conference in the Senate. That sure doesn't sound like much of a headline, but at the time it was.
For much of 2009's heated health care debate, she avoided reporters like the plague.
She was such a stranger to the Capitol Hill press corps that when she walked into her news conference, she commented on what she thought was a new backdrop for the press studio frequented by senators. It had actually been renovated more than a year earlier.
Lincoln barely acknowledged Washington reporters -- this one assumed she was being strategic and limiting her interaction -- especially about the divisive health care debate.
Later, I heard from multiple Arkansas Democrats that they thought she had disappeared at home, too, virtually silent through much of 2009 as liberal groups and unions ran ads attacking her for opposing and helping to kill a government-run health insurance option.
"She was getting attacked on health care for a year and they didn't respond on TV or radio," one Arkansas Democratic strategist who supports Lincoln told me, noting that her campaign no doubt regrets that inaction.
Those same groups helped find Lt Gov. Bill Halter and convince him to challenge Lincoln in the Democratic primary.
Again, Lincoln was slow to respond. Halter was running a second wave of TV ads before Lincoln ran even one.
Then, slowly, the Blanche Lincoln who at age 33 used her delta charm to win her first House race against her former boss started to re-emerge.
The engaged, disciplined campaigner who became the youngest woman ever elected to the Senate began to turn it back on.
The Blanche Lincoln who grew up in a seventh generation Arkansas farm family began to reconnect. She started to talk incessantly about her new position as chairwoman of the Senate Agriculture Committee, the first senator from Arkansas to hold the post. Over and over, she would rhetorically ask voters in the farm-heavy state if they really wanted to give up that powerful pipeline from Washington?
But it was the decision to try to redirect Arkansas' anger at Washington into anger at "outsiders" for trying to manipulate their vote that may have had the most impact on waking up her base.
Two days before the May 18 Democratic primary that ended in a runoff, I met up with Lincoln at an event sponsored by African-American women supporters in Little Rock.
Lincoln was so determined to talk about outside forces descending on Arkansas that during our 20-minute interview I could have asked her what color the sky is, and she probably would found a way to say some version of this:
"Arkansans want to be able to maintain their uniqueness and personalities and chose their own candidates as opposed to being taken over by some of these big interest groups who have a lot of money to spend, and spend that money and spin the election the way that they want and convince Arkansans who they should be and how they should vote."
It sounded Clintonian to me at the time, and that was only re-enforced when the president materialized a week before the runoff delivering that same message in his inimitable style at a campaign event for Lincoln.

Video: Sen. Blanche Lincoln wins Arkansas race
"This is about using you and manipulating your vote to terrify members of Congress and members of the Senate from other states," President Clinton warned the crowd.
Still, the anti-Washington wave was real. It wasn't just a narrative we journalists concocted and clung to. "Time for a change" was a mantra I heard from Halter supporters as they went to the polls for the primary and the runoff.
"I want the people who are in there out," Frank Pipkin told me after voting for Halter. "I don't like the way the politics in this country are going."
The night of the primary, when she declared victory even though she was forced into a runoff, she told Arkansans that she heard them and she got that they're angry.
Lincoln's final TV ad was walking on a farm, speaking straight to camera, saying "I know you're angry at Washington, believe me, I heard you on May 18th"
Lincoln admitted to me the day of the runoff that she didn't appreciate at first the intensity of frustration at Washington and how much was directed at her.
"I would say that we may have underestimated the anti-incumbent mood," Lincoln said.
"I think people are angry. They're enormously frustrated with Washington, and I am, too. I think they're frustrated without a doubt at our lack of results."
Although she was constantly upbeat and insisted she would "pull it off," as she uttered those words to me the morning of the runoff, it wasn't clear if she really believed it.
But in the end, "Better-late-than-never" Blanche prevailed.
Her entreaties to Arkansans about her seniority, her warnings about outsiders telling them what to do, her mea culpa about Washington being broken brought out her voters and kept her from defeat.
Though primaries usually tend not to work in an incumbent's favor for the general election, Lincoln's campaign manager told me he thought the fight made her a better candidate for the fall.
She's going to need it.
Many of the same Democratic supporters who doubted she would win the primary say chances are slim she can fend off a GOP challenge in this tough year for Democrats and in a conservative state.
"Ever since 1991 when I first threw my hat in the ring, everyone has said I'm too young, I'm a woman, I'm up against the conventional wisdom, whatever," Lincoln told me.
"You know, that's why you fight."
FOLLOW THIS TOPIC