TSA nominee faces questions about unionizing airport screeners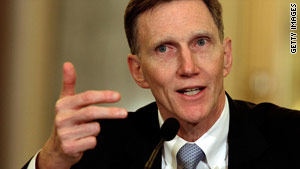 John Pistole, currently deputy director of the FBI, is President Obama's third nominee to head the TSA.
STORY HIGHLIGHTS
Republicans want nominee to oppose unions for screeners
Republicans fret that unionization with hinder emergency response
Nominee offered no opinion, but said he had been asked to study issue
Jim DeMint blocked previous nominee for same reason, again vocal against unions
Washington (CNN) -- There was little debate about job qualifications and more talk about whether screeners at the nation's airports should be able to unionize during Thursday's confirmation hearing for the president's latest nominee to head the Transportation Security Administration.
John Pistole, currently deputy director of the FBI, generally received praise for his law enforcement experience, but several Republican senators -- including South Carolina's Jim DeMint, who placed a hold on an earlier nominee for the same reason -- pressed Pistole to oppose allowing airport screeners to unionize.
Texas Sen. Kay Bailey Hutchinson told Pistole she is "adamantly against" allowing screeners to join unions.
"You can't have eight hour days," said Hutchinson. "You have to be able to respond to emergencies."
Pistole did not express an opinion on whether TSA workers should be able to unionize but told the senators that Homeland Security Secretary Janet Napolitano has asked him to study the issue.
DeMint said he was not satisfied with Napolitano's position that security jobs and collective bargaining are not mutually exclusive. Collective bargaining rights, he said, "will have a direct, negative effect on security."
DeMint said that screeners "need to be able to quickly respond to changing counterterrorism tactics so we can thwart the tactics of our adversaries and protect passengers without having to get a sign-off from a union boss."
During his appearance before the Senate Commerce, Science and Transportation Committee, Pistole also discussed the challenges in discovering every would-be terrorist. Pistole said Umar Farouk Abdulmutallab, who allegedly tried to blow up a plane on December 25, never touched his bomb so no explosive traces would have been detected in screening. He also said that the bomb had no metal parts, meaning metal detectors could not find it.
Under such circumstances, Pistole said, it's important to have the best technology but good, solid intelligence on what terrorists are plotting is just as important.
Pistole is Obama's third nominee to head the Transportation Security Administration. Both Los Angeles Airport police department official Erroll Southers, whose nomination was blocked by DeMint, and retired Maj. Gen. Robert Harding withdrew their nominations.