Two men charged with threatening Stupak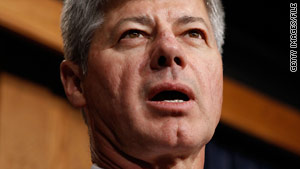 Michigan Rep. Bart Stupak was a key swing vote on President Obama's health care reform legislation.
STORY HIGHLIGHTS
Michigan man and son charged with sending threatening communication to Rep. Stupak
Both men charged with conspiring to threaten to assault, kidnap or murder Stupak
Maximum penalty 5 years and/or $250,000
(CNN) -- A man in Michigan and his son in Colorado have been charged with sending a threatening communication to U.S. Rep. Bart Stupak, D-Michigan, after his vote in favor of the health care bill.
Russell Hesch, 73, of West Branch, Michigan, and his son David, 45, of Loveland, Colorado, were charged in a criminal complaint with conspiring to threaten to assault, kidnap or murder Stupak, the U.S. Attorney's Office for the Eastern District of Michigan said Monday in a news release.
The elder Hesch appeared Friday in court in Bay City, Michigan, and was awaiting a detention hearing before a magistrate judge, said Jeff Dorschner, a spokesman for the U.S. Attorney's Office in Colorado.
The younger Hesch appeared Monday in federal court in Denver, Colorado, and was advised of the charges, the spokesman said. He is to return to court Thursday for a preliminary hearing, a detention hearing and an identity hearing, Dorschner said.
According to an affidavit in support of the complaint, a two-page letter addressed to the "Stupak Family" was received by Stupak's office on May 25.
After criticizing Stupak for his vote in support of the health care legislation, it said, "Actions and decisions carry consequences. Is your wife, Laurie Ann, prepared for those consequences? Is your son Ken and his family prepared for those consequences?"
It adds, "You wanted to get some Washington paint for the bridge? Not to worry, I will paint the Mackinaw Bridge with the blood of you and your family members. I will not say when and with who but I will save your blood for the high towers toward the end of this project. You will live long enough to truly experience the unfortunate but definite consequences of your decision. You will watch your world slowly crumble and erode around you."
According to the complaint, Stupak told the FBI that one of his most vociferous critics was Russell Hesch. The FBI compared the letter with previous missives and found them similar enough to interview Hesch, who initially denied having written the threatening letter, the complaint said.
But last Friday, Hesch admitted having written the letter and said he e-mailed it to his son with instructions to mail it from Denver, the complaint said.
In a statement issued Monday, Stupak thanked law enforcement officers for acting vigilantly and professionally to ensure his and his family's safety. The congressman would not comment on the probe because it is ongoing.
David Hesch is to be extradited to Michigan, where he will face the charges. Both men requested representation by a public defender.
If convicted, the men face a maximum penalty of five years' imprisonment and/or a $250,000 fine.