Obama gives six-month deadline to Gulf oil spill commission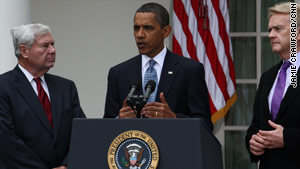 President Obama is joined Tuesday by Sen. Bob Graham, left, and William Reilly, who will lead the panel examining the Gulf oil spill.
STORY HIGHLIGHTS
NEW: Obama says panel is empowered to hold public hearings and request information from BP and Transocean
Obama says he expects a new commission tasked with preventing future oil spills to report to him in six months
The commission will be headed by former Florida Sen. Bob Graham and former EPA Administrator William Reilly
Obama insisted those accountable for the spill will be brought 'to justice'
Washington (CNN) -- President Obama said Tuesday he expects a new presidential commission tasked with investigating how to prevent future oil spills to "follow the facts wherever they may lead" and report back to him in six months.
The seven-member panel, headed by former Sen. Bob Graham, D-Florida, and former EPA Administrator William Reilly, will "thoroughly examine the (BP oil) spill and its causes so we never face such a catastrophe again," Obama said at the White House. Graham and Reilly joined the president for the announcement.
"We owe all those who've been harmed, as well as future generations, a full and vigorous accounting of the events that led to what has now become the worst oil spill in U.S. history," Obama said. "Only then can we be assured that deep-water drilling can take place safely. ... Only then can we be confident that we've done what's necessary to prevent history from repeating itself."
Obama, who recently created the commission through an executive order, noted that the panel is authorized to hold public hearings and "request information from government, from not-for-profit organizations, and from experts in the oil and gas industry ... as well as from relevant companies, including BP, Transocean, Halliburton and others."
The president's announcement came in the midst of a new BP operation aimed at lessening the amount of oil gushing from an underwater well off the Louisiana coast, according to BP Managing Director Bob Dudley.
BP workers are attempting to make a series of cuts to part of the wellhead in order to prepare the way for a custom-made cap to be fitted over the gusher.
The administration has been struggling to juggle what many observers see as the conflicting tasks of working with BP to contain the spill while also holding BP accountable for the spill's damage. Obama once again insisted Tuesday that the government "will bring those responsible (for the Gulf oil spill) to justice."
Attorney General Eric Holder is heading to the Gulf Coast Tuesday to survey the spill and meet with state attorneys general and federal prosecutors from Louisiana, Alabama and Mississippi, according to the Justice Department.
Holder said last month that the Justice Department would "ensure that BP is held liable."
Oil has been gushing from the undersea well since April 20 when the Deepwater Horizon oil rig exploded and later sank. Government estimates are that up to 19,000 barrels (798,000 gallons) of oil a day are flowing into the Gulf of Mexico.