Senator pushes to cut 'cozy' ties between oil industry, regulators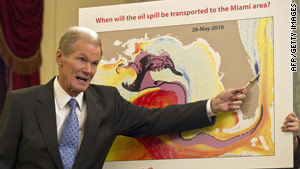 Sen. Bill Nelson speaks on Capitol Hill on May 18 about the response efforts to the Gulf Coast oil spill.
STORY HIGHLIGHTS
Legislation would set two-year ban on regulators jumping to jobs with oil companies they oversee
It also would bar regulators from accepting gifts from oil companies.
Regulators would have to give up any oil company stock they may currently hold
Bill was unveiled after the release of an Interior Department report
Washington (CNN) -- Federal oil industry regulators would have to wait at least two years after leaving government service before going to work for companies they helped regulate under legislation announced Wednesday by Sen. Bill Nelson, D-Florida.
Among other things, the bill would bar regulators from accepting gifts from oil companies. It also would require regulators to divest themselves of any stock they may hold in oil companies and prohibit them from part-time employment in the industry.
Nelson unveiled the bill one day the release of an Interior Department report revealing that federal inspectors overseeing oil drilling in the Gulf of Mexico accepted meals and tickets to sporting events from companies they monitored.
In one case, an inspector in the Minerals Management Service office in Lake Charles, Louisiana, conducted inspections of four offshore platforms while negotiating a job with the company, the report stated.
It is time to "stop this cozy, incestuous relationship between the oil industry and the regulators," Nelson said on the Senate floor. He added that lawmakers want to "etch it into the statutes so there is no question" about what is required.
"These are just common-sense things," Nelson asserted. He noted that similar legislation had been introduced two years ago but was defeated after meeting significant resistance.