STORY HIGHLIGHTS
Tuesday's races had unique storylines, but all share common thread of anti-establishment

Sen. Arlen Specter's loss brings number of incumbents to fall this year so far to three

Sen. Blanche Lincoln, centrist Arkansas Democrat, is fighting for her political life

Tea Party owns Rand Paul's victory in Kentucky over GOP establishment candidate

Washington (CNN) -- So much for political kingmakers and the machine, at least in Kentucky and Pennsylvania. National and statewide political officials and operatives watched their chosen candidates fall Tuesday in two separate primaries with two different narratives weaved together by the common thread of anti-establishment sentiment.
Republican-turned-Democratic Sen. Arlen Specter of Pennsylvania saw his 30-year career in the Senate come to an abrupt end at the hands of Rep. Joe Sestak despite being endorsed by President Obama, Vice President Joe Biden, Pennsylvania Gov. Ed Rendell and just about every big-name Democrat.
In Kentucky, Senate Minority Leader Mitch McConnell failed in his attempt to crown Secretary of State Trey Grayson the GOP Senate nominee in the race to succeed retiring Sen. Jim Bunning. Grayson lost in a landslide to Rand Paul, whose campaign was fueled by Tea Party activists.
Meanwhile in Arkansas, Sen. Blanche Lincoln failed to beat back a challenge from the liberal wing of the Democratic Party and will face Lt. Gov. Bill Halter again in a primary runoff. Round two takes place June 8.
These three races all have unique storylines with their own set of actors, subplots and circumstances. Yet each political contest shares the overarching themes of anti-Washington and anti-establishment exacerbated by a sluggish economy and high unemployment rate.
Scene 1: Pennsylvania

Video: The year of the anti-incumbent?

Video: Specter loss surprises Richardson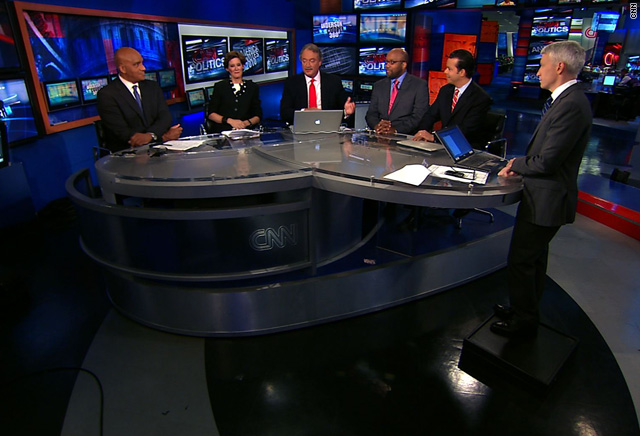 Analyzing Tuesday's races

Video: Rand Paul on mood of country
A political fence-sitter, Specter over the years often worked with Democrats on legislative matters much to the chagrin of his Republican colleagues. But the ultimate betrayal for the GOP was when Specter switched parties in 2009 and handed Obama a powerful legislative weapon in the Senate: the 60th vote. Thanks to Specter, if every Democrat maintained party unity on votes, then Republicans would be virtually powerless in stopping the Obama agenda in the Senate.
Republicans cursed Specter's party switch, while Democrats hailed it. But a year later, we learn that not all Democrats embraced the former Republican and some saw Specter as an opportunistic politician who would do anything to win re-election.
Specter's acknowledgment that "my change in party will enable me to be re-elected" just reinforced this do-anything-to-win belief for some Democrats, who found it hard to reconcile the fact that he had been a Republican since the mid-1960s before switching party allegiances. Sestak used television advertising to emphasize Specter's quote as well as his previous ties to the GOP rather effectively.
Having the 60th vote was a huge deal for Obama and congressional Democrats. The president in turn repaid the favor by endorsing Specter and even going as far as to predict that the new Democrat would win a sixth term. Yet Obama did not appear on the campaign trail for Specter in the closing days, perhaps realizing that if the senator lost then it would reflect poorly on him.
After making eleventh-hour unsuccessful visits for candidates in Massachusetts and New Jersey, the president was probably wise to stay away from Pennsylvania. But Obama is unlikely to escape questions of why didn't he go all in for Specter in the end. And Republicans surely will not stand by and let the opportunity pass to promote the idea that the president has no more political juice.
In a strange way, Democrats did get their candidate. Sestak was being recruited last year to challenge Specter before the latter switched parties. That effort immediately stopped and instead these same leaders sought to convince Sestak not to challenge Specter.
Sestak didn't listen and instead ran an underdog campaign to unseat the five-term senator, who was receiving the help of the national and statewide Democratic political machines. Undeterred, Sestak crisscrossed the state in search of votes, and in the final weeks the public polls started to show that Specter was vulnerable. Those surveys proved correct as Sestak stood victorious Tuesday evening on the stage surrounded by supporters.
"This is what democracy looks like," Sestak said. "A win for the people, over the establishment, over the status quo, even over Washington, D.C."
Just two days earlier, I watched as Sestak sat alone for half an hour in a pew waiting to stand at the pulpit and ask members of Philadelphia's Mount Ephraim Baptist Church to vote for him. I wonder if he prayed for a win?
Scene 2: Kentucky
When Rand Paul expressed interest last year in running for the Republican Senate nomination in Kentucky, he attracted national attention because, well, he is the son of Rep. Ron Paul of Texas. After all, the elder Paul surprised everyone when he proved to be a formidable fundraiser in his 2008 bid for the GOP presidential nomination.
Is the younger Paul a chip off the old block? It appears so, and over the past year he has established his own national identity in an emerging political movement that is organized on the simple principle that Washington has lost its way.
Paul is a prominent face for the Tea Party, a decentralized group of conservative, anti-Washington, grass-roots activists. His win over Grayson was a sign that Tea Party candidates, in the right circumstances, can take on the party machine and win the big race. Grayson was endorsed by McConnell, who is so powerful in the state Republican Party that its headquarters is named after him. But then came the Tea Party.
The Tea Party can claim some credit for Scott Brown's victory in January's special election to fill the seat of the late Sen. Edward Kennedy in Massachusetts. But in Kentucky, they own Paul's win.
In his victory speech, Paul warned that "a day of reckoning" had arrived for the Washington establishment.
"I have a message from the Tea Party," he said. "A message that is loud and clear and does not mince words: 'We've come to take our government back.' "
Scene 3: Arkansas
It wasn't a great night for Lincoln, but it wasn't devastating. She lived to run another day. Still, the centrist Democrat failed to receive 50 percent of the vote that would have allowed her to avoid a runoff against Halter.
Lincoln is a Democrat who is at odds with her party's liberal base, particularly the unions and organizations such as MoveOn.org. In the best-case scenario, her critics want to hand Lincoln her walking papers on June 8, while the worse-case scenario is to send her a strong message that she needs to be more accepting of liberal policies.
These Democratic activists are angry at Lincoln for opposing the public option that was considered in the health care reform bill, her refusal to back organized labor's policies and an unwillingness to rubber-stamp Obama's agenda.
The critics wasted little time in seeking a new round of contributions to help pay for the runoff campaign.
"Despite being outspent by more than two-to-one, Halter is running slightly ahead as I send this -- and now both candidates are headed into a runoff election," Michael Sherrard of MoveOn.org said in an early-morning e-mail fundraising pitch to its members.
"Make no mistake, this is big news. For the first time, voters have shown that Democrats who side with corporate interests to block President Obama's agenda will suffer for it at the ballot box. But even as we're celebrating, it's time to double down."
Lincoln, too, sent out a request for donations for the runoff. If Lincoln loses, it will certainly send a chill down the spine of other centrist Democrats fearfully that a loss to a Democrat, not a Republican, could end their congressional careers.
If she wins, then it might help her in the general election. Lincoln proudly wore her centrist credentials on her sleeve, which might be appealing to some voters in this conservative state.
Scene 4: Bonus
In addition to Paul and Sestak, another big winner Tuesday night was Democrat Mark Critz, who defeated Republican Tim Burns in a much-watched special election in Pennsylvania to fill the remaining months of the late Rep. John Murtha's term.
Republicans were hoping to pick up this seat, which would allow them to point to this victory as a sign that momentum was on their side heading into the midterms. But for the GOP it was not meant to be.
And one of the happiest people on Capitol Hill on Wednesday morning is House Speaker Nancy Pelosi, D-California, who will not have to answer any questions about why Democrats lost the Murtha seat.
Specter's loss brings the number of incumbents to fall this year so far to three -- Sen. Robert Bennett, R-Utah, and Rep. Alan Mollohan, D-West Virginia, already have been ousted.
McConnell, the most powerful Republican in the Senate, failed to get his candidate the GOP Senate nomination; Obama's endorsement was not enough to help Specter win the nomination of his new party; and a centrist Democrat is fighting for her political life as she faces an attack on her left flank.
Each of these races has its own unique storyline, but they share that common thread of anti-establishment. Bottom line, it is open season on political incumbents.