STORY HIGHLIGHTS
Tuesday's three-person Democratic primary did not produce a Senate candidate
Sen. Blanche Lincoln is running as moderate willing to vote at odds with her party
Lt. Gov. Bill Halter has positioned himself to left of Lincoln, is backed by several unions
Democrats have held the Arkansas Senate seat for 131 years
Little Rock, Arkansas (CNN) -- The battle over who will try to keep an Arkansas Senate seat in the hands of Democrats -- where it's been for 131 years -- isn't over yet.
Neither incumbent Sen. Blanche Lincoln nor Lt. Gov. Bill Halter could muster a majority of the votes in Tuesday's three-person primary, forcing the rivals into a June 8 runoff.
Lincoln got 44 percent of the vote and Halter won 42.4 percent in the latest vote results. Arkansas businessman D.C. Morrison, came in a distant third place, getting 13.5 percent.
There is speculation that support for Morrison cost Lincoln votes, thereby putting her below the 50 percent threshold and forcing the runoff.
Lincoln had been holding a comfortable lead against Halter just weeks before primary day, but the lieutenant governor began to close in during the final days of the race.
Halter cast an early morning vote for himself. But Lincoln experienced a bit of a mix-up: election officials said they had her listed as already having voted absentee. Lincoln later explained that she previously requested an absentee ballot but never filled it out. Shortly after arriving at her polling station, the senator voted by provisional ballot.
In a speech to supporters in Little Rock, Lincoln said she endured the pitched battle and is ready for the nearly three-week extension.

Video: Blanche Lincoln: 'Countdown to victory'

Video: Bill Halter: 'One choice for change'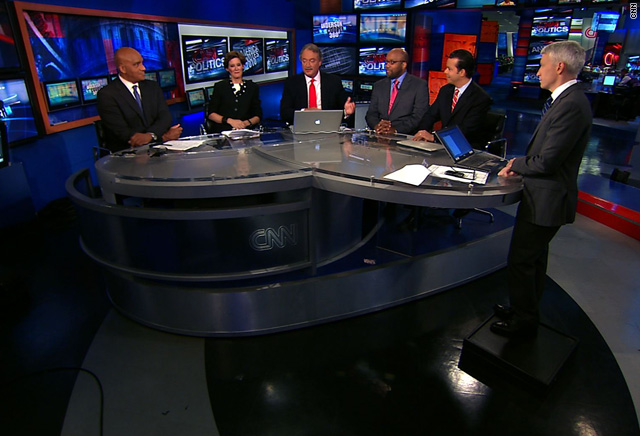 Analyzing Tuesday's races
"They were writing us off, but tonight we have proved by winning the popular vote that we cannot be written off and we won't be," Lincoln said. "Tonight, we begin our countdown to victory, folks! And that is exactly what we're going to do."
As she often has during the campaign, the senator also blasted the various labor unions that have supported her in the past but are now working hard to defeat her.
Among the issues labor unions cite in its opposition to the senator is the Employee Free Choice Act, which unions strongly want but Lincoln is against. The measure would make it easier for workers to form unions.
At her campaign event, Lincoln blasted what she sees as meddling forces with hidden agendas.
"This campaign is not ... about the outside groups who are trying desperately to exert their influence here," Lincoln said. "In the end, this race is about us. It is about you and me and it is not about these outside groups and what they think and who they are."
At his rally less than a mile away, Halter claimed that he was the victim of a campaign by outside groups.
"For the past 11 weeks, the outsiders, the special interests, the Washington D.C. insiders, Republican operative groups -- they've all had their say," Halter said. "But today, Arkansans had their say."
"Today, you proved that your votes -- and not their money -- that is gonna determine the future of Arkansas and the future of America."
As Lincoln did, Halter also characterized the vote result as being positive for his campaign.
When asked why he was claiming victory when there is not yet one, Halter told CNN, "Because, No. 1, you've got an 11-year incumbent being challenged within her own primary and not, not clearing the 50-percent hurdle."
Lincoln is running as a moderate Democrat against Halter, who embraced more liberal positions. Their protracted battle will cost both sides even more money, resources and time spent in a Democrat versus Democrat fight -- rather than being able to immediately take on Rep. John Boozman, who beat out a crowded field of eight to win his party's primary on Tuesday. A Democrat has held the seat for 131 years.
The party's primary race, which had grown increasingly bitter in the final days, attracted national attention.
President Obama waded into the contest, endorsing Lincoln. National labor groups pored money into the state to back Halter.
Even though the candidates campaigned on some issues of special importance to Arkansas, much of the debate centered on national issues.
Critics have derided Lincoln as "Bailout Blanche" because of her vote for the financial bailout. They also have blasted her opposition to the public option in the health care bill, and her later vote against the reconciliation package.
Lincoln voted for the bill that ultimately emerged from the Senate, lacking a public option.
Halter's critics previously called him "Dollar Bill," claiming he outsourced jobs to India as a businessman and claimed that he wants to raise Social Security taxes and cut benefits.
Another national issue -- the push for financial reform -- has also weighed heavily in the race. Lincoln has sponsored a provision to the Wall Street reform bill to ban derivatives trading by many financial firms.
But on Tuesday, Senate Banking Committee Chairman Christopher Dodd, D-Connecticut, proposed a compromise change that would water down Lincoln's amendment.
"Sen. Lincoln is fully committed to her provision and will fight efforts to weaken it," said her spokeswoman Katie Laning Niebaum.
Meanwhile, Lincoln and Halter, eyeing the next few weeks before the runoff, seem to agree on at least one thing: the campaign's negative tone.
Speaking with CNN, Halter decried negative fliers that he said came from the Lincoln camp. For her part, Lincoln is calling for a truce.
"I want to call on Bill (Halter) to end all the" negative ads, Lincoln said. "This should be a race about the issues."
CNN Senior Congressional Correspondent Dana Bash contributed to this report.